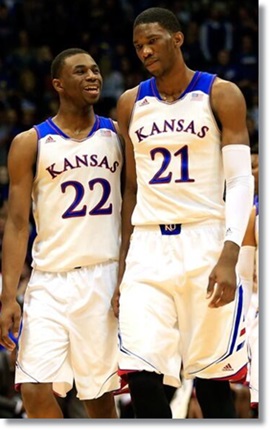 Despite all of the hype surrounding this season's fabulous freshmen like Andrew Wiggins, Jabari Parker, and Julius Randle, a relative under the radar frosh named Joel Embiid has emerged as the frontrunner for the #1 selection in the 2014 NBA Draft.
After playing organized basketball for all of 2 seasons prior to arriving on the Jayhawks' campus, the 7 foot Cameroon native has drawn some almost unbelievable comparisons to NBA Hall of Famer Hakeem Olajuwon, for his innate footwork, "Dream Shake" moves around the basket, and shot-blocking ability within the painted area.
Big men with those skills are hard to come by, almost once in a lifetime, which is why most NBA scouts agree that Embiid, should be the top player taken in this year's draft, despite all of the superstar potential in this season's freshman class.
But for all of his outstanding exploits on the court, Embiid is now out indefinitely, after he has sustained what doctors are calling a stress fracture in his lower back.  He's been ruled out of the entire Big 12 Tournament and potentially the first few rounds of the NCAA Tournament by a Los Angeles spinal specialist.
Per Rustin Todd of the Kansas City Star, Kansas head coach Bill Self revealed….
"Next weekend, we feel like is a long shot, but the doctors are hopeful that if Joel works hard in rehab and progresses that it is possible that he could play in the later rounds of the NCAA Tournament if our team is fortunate enough to advance."
After winning their 10th straight Big 12 regular season crown, not having Embiid, arguably the best big man in the country, definitely puts a dent in Kansas' National Title hopes, and may now hurt Embiid's chances at becoming the #1 pick.
The team now will have to rely on Wiggins, who recently just dropped a career high 41 points on the final day of the regular season, as well as sophomore standout Perry Ellis and fellow frosh Wayne Selden Jr, if the Jayhawks are to make another deep run this March.
Big men with pre-existing injuries are not a good thing late in the collegiate season and heading into the draft.  No doubt thoughts of Greg Oden and even Sam Bowie will now creep into teams' heads when making their selections come June.
Does Embiid's injury open the door for Andrew Wiggins and/or Andrew Wiggins to become the #1 pick in the 2014 NBA Draft?
Allen Moll has been a lifelong NBA and NCAA College Basketball fan who watches and studies games religiously, and coaches youth basketball in his native Lehigh Valley region of Pennsylvania. Allen has also provided content to Bleacherreport.com, Upperdeckblog.com, Cleveland.com, CSN Philly.com, Buckets Magazine, in addition to being a tenured NBA and NCAA columnist for TheHoopDoctors.com.