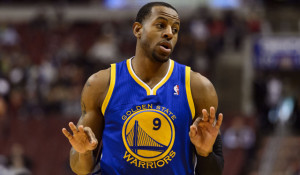 The Golden State Warriors will be without Andre Iguodala for the next few games due to knee tendinitis. When at full strength, Golden State can beat just about anybody. But that's the key: having a completely healthy squad.
Iggy missed time earlier this year, and Bogut (and to a lesser degree, Steph Curry) have also battled injuries. Hopefully this will rest them up for the playoffs.
The Warriors announced Tuesday that Andre Iguodala will miss the next three games with knee tendinitis.
The Warriors play Orlando Tuesday, then Milwaukee before a significant matchup with the Spurs, so it's a good time to rest him. Additionally, the team has a five-day break afterwards ,so Iguodala could realistically get two weeks off.
H/T: CBS sports