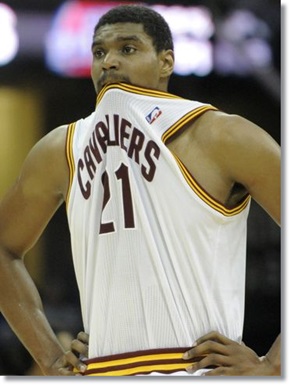 Well it's official.  Monday, the Indiana Pacers officially signed much maligned big man Andrew Bynum.
The 7'1, 285 lbs center that was a former NBA All Star and 2 time NBA Champion with the LA Lakers has worn out his welcome with 2 NBA franchises(Cleveland and Philadelphia) over the past 2 seasons and now goes to a team which doesn't need him as a focal point but more of a supporting piece in an attempt to win an NBA Title.
Of course, the immediate goal is to use their now immeasurable size advantage to finally get past the Heat, the team that prematurely ended their Playoff run the previous 2 seasons.
On the positive side, the Pacers are playing the odds, using Miami's well known kryptonite…..size, to their advantage, adding the 7'1 Bynum to the already stacked frontcourt featuring the 7'2 Roy Hibbert, 6'11 Ian Mahinmi, 6'9 David West, and 6'9 Luis Scola.
The Heat in contrast use only the 6'10 Chris Bosh, 6'10 Chris "Birdman" Andersen, and little used 7'0 center Greg Oden as the only players with any real size as legitimate frontcourt players.
The rumors persist that Indiana only looked to sign Bynum to keep him away from the Heat, or fellow Eastern Conference teams like New York, Brooklyn, and Atlanta, but I doubt Pacers President of Basketball Operations  Larry Bird would stoop to that type of strategy rather than take a chance on ruining his team's chemistry.
But in my estimation, even if Bynum doesn't log a single minute for the Pacers this season, Indiana will be just fine.
Without Bynum, Indiana was arguably playing like the best team in the NBA, with an impressive 23-5 mark against the rest of the East and a 13-5 record against the much tougher Western Conference.
This could be Bynum's final chance at contributing to a good team or playing meaningful NBA basketball for the foresee-able future.
Will he finally fall in line under the leadership of veterans like West, Scola, and Hibbert in a winning environment or follow suit and buck the system like his previous two stops?
At the very least, Bynum should provide another 5 fouls to use in key late game situations.  Let's hope he doesn't go all flagrant, as he is sometimes prone to do, like he once did to JJ Barea, Gerald Wallace, and Beasley in year's past.
But then again he also could give them this……
http://www.youtube.com/watch?v=FZdVPMD1t0A
Allen Moll has been a lifelong NBA and NCAA College Basketball fan who watches and studies games religiously, and coaches youth basketball in his native Lehigh Valley region of Pennsylvania. Allen has also provided content to Bleacherreport.com, Upperdeckblog.com, Cleveland.com, CSN Philly.com, Buckets Magazine, in addition to being a tenured NBA and NCAA columnist for TheHoopDoctors.com.