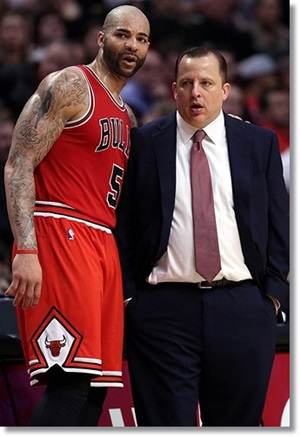 In the short term, the Cleveland Cavaliers appear to be the immediate winners of this week's Andrew Bynum for Luol Deng trade.
For at least the rest of this season, the Cavs get an All Star caliber small forward in Deng that quite possibly could help get Cleveland back into the Playoffs for the first time since 2010.
But for the Bulls, it is now clear that they are, or should be in full on tank mode, now that their 1st and 2nd best players(Rose and Deng) are either injured or traded to another team.
It's actually a smart move by Bulls management, considering their struggles to come to an agreement with Deng on an extension past this year and that the team's window of opportunity to win an NBA Title probably slammed shut once Rose went down for the remainder of the season back on November 22nd.
In Chicago it won't be a total rebuild as they still have Joakim Noah, Taj Gibson, Jimmy Butler, and Derrick Rose signed for multiple years beyond this season.
But getting rid of Deng for cap flexibility and future draft picks may also spell the end for 2 time All Star Carlos Boozer in a Bulls uniform if they so desire by amnestying the sometimes underwhelming power forward, ridding themselves of another $16.8 million owed for '14-'15.
The now 32 year old Boozer has been a shell of his former self in Cleveland and Utah when he was regarded as one of the best forwards in the league, regularly ranking among the NBA leaders in scoring, rebounding, and FG percentage.
Last season, he averaged a mediocre 14.9 ppg, 9.1 reb, and shot a career worst .451 from the field, while playing in only 26 games due to injuries.  Once one of the league's premier power players down low, Boozer now tends to favor fade-away jumpers over pounding in the paint.
Another one of the casualties of trading Deng could be head coach Tom Thibodeau.
It might seem unthinkable for the team to part with the former 2011 NBA Coach of the Year, but Thibs has always had a rocky relationship with ownership and has a win now mentality.
It's no secret that he is a relentless taskmaster with his players which was much easier to tolerate when they regularly were winning 50-60 games but that would surely wear thin during a rebuild.
Thibodeau comes from a winning atmosphere in prior stops in New York, Houston, and Boston where his teams finished in the Top 10 in defensive scoring in 10 of the past 15 seasons, something that seems unlikely with a full on rebuild.
If they do use their one time amnesty clause on Boozer, the team would actually accelerate the rebuild process by being able to acquire at least one top flight free agent to pair with Rose this Summer, and potentially having a better chance at keeping Thibodeau, one of the league's most well respected coaches, at the helm for the foreseeable future.
Allen Moll has been a lifelong NBA and NCAA College Basketball fan who watches and studies games religiously, and coaches youth basketball in his native Lehigh Valley region of Pennsylvania. Allen has also provided content to Bleacherreport.com, Upperdeckblog.com, Cleveland.com, CSN Philly.com, Buckets Magazine, in addition to being a tenured NBA and NCAA columnist for TheHoopDoctors.com.