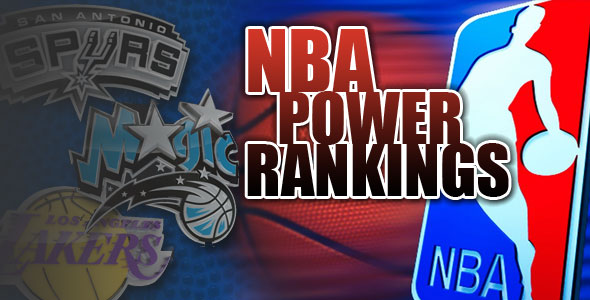 We're back.
After a brief—okay, not so brief—holiday hiatus, your favorite version of NBA Power Rankings written by a left-handed someone named Dan with an affinity for em dashes is back. Try to curb your enthusiasm, as I only packed enough adult diapers for myself.
Anyway, a lot has happened since we've been gone. Russell Westbrook went down (again), Chris Paul went down, Luol Deng has a new home, Andrew Bynum does not, the Chicago Bulls are tanking, the Los Angeles Lakers are sad and Kelly Clarkson can dream for the first time, among other things.
Instead of pretending we all knew this was going to happen, let's call this season what it is: a shit show.
Like I've penned time and time again, this year has breached new levels of unpredictable chaos, leaving the majority of us perplexed and slightly clueless. But we trudge on, because we love the NBA. And only losers retreat. And because I said so.
Keeping in spirit of the New Year, we're going to try something different this time around. Your favorite teams are ranked like usual, only this time, I've provided a totally fake, not at all authentic New Year's Resolution from a central figure. Please don't be offended if I didn't pick the player, coach, owner, personnel member or deranged fan you love. It's nothing personal—just business.
Speaking of which, let's remember this is all in good fun. No offense is intended, unless specified otherwise. We're just letting off some post-holiday steam. I strongly suggest you do the same, remaining productive whilst you do.
And nothing's more productive or fulfilling than tackling 2014 with some good ol' fashioned, overly weird, deliberately obscure New Year's resolutions.
**Welcome back to The Hoop Doctors' PG-13 NBA Power Rankings, where almost anything goes. Language may sometimes not be suitable for those reading at work, in which case I recommend you don't read these aloud or you get a new job. Like most PG-13 movies, we'll permit one F-bomb per post. Those devoid of a sense of humor need not proceed. 
***For a week by week list of all our NBA Power Rankings this season, please visit this page.
NBA Power Rankings
| | |
| --- | --- |
| 1 | |

Miami Heat

"More photobombs. More Chris Bosh game-winners. Better ties for Erik Spoelstra. Rogaine sponsorship for LeBron." -Lady who flipped off Joakim Noah.

Last Week (4)

| | |
| --- | --- |
| 2 | |

Indiana Pacers

"We have two goals: Keep doing what we're doing, and bound and gag Lance Stephenson while holding him hostage in a dungeon smelling of curdled cheese and feculent olive loaf. All in the name of ensuring he won't leave during free agency." -Larry Bird

Last Week (3)

| | |
| --- | --- |
| 3 | |

Golden State Warriors

"This is a story all about how the NBA got flipped, turned upside down, by a wily bunch of shooters who put defenses to shame, all while listening to Will Smith rap The Fresh Prince of Bel-Air prelude during the game. Oh, and Golden State's New Year's resolution is to keep shooting. And protect Andre Iguodala at all costs." -Me, two seconds ago.

Last Week (9)

| | |
| --- | --- |
| 4 | |

Oklahoma City Thunder

"This side of 2014, we will adorn Westbrook in bubble wrap while attempting to find out where Kendrick Perkins' self-destruct button is located." -Scott Brooks

Last Week (2)

| | |
| --- | --- |
| 5 | |

Portland Trail Blazers

"Please, God, could we have a second unit? Maybe even a consistent defense? And if you're feeling generous, one of those Polly Pocket gift sets would be very much appreciated, too." -All of Portland

Last Week (1)

| | |
| --- | --- |
| 6 | |

San Antonio Spurs

"Never shall I speak using my inside voice, respect the media or be anything other than a detached bastard who hates everyone except Tim Duncan. And Kawhi Leonard. Mrs. Butterworth is all kinds of sexy, too." -Gregg Popovich

Last Week (5)

| | |
| --- | --- |
| 7 | |

Houston Rockets

"We, the Houston Rockets solemnly swear to trade Omer Asik for a player who, you know, actually plays." -Daryl Morey

Last Week (8)

| | |
| --- | --- |
| 8 | |

Phoenix Suns

"There will be no tanking here. Promise. Unless the opportunity presents itself. Again. In that case, we'll tank. And fail. By making the playoffs. Also, we'll keep feeding Markieff Morris nothing save for ground cabbage." -Ryan McDonough

Last Week (7)

| | |
| --- | --- |
| 9 | |

Los Angeles Clippers

"From this day forth, I shall forever clear my throat before I speak. And I will always overrate DeAndre Jordan." -Doc Rivers

Last Week (6)

| | |
| --- | --- |
| 10 | |

Minnesota Timberwolves

"I will not shave until we make the playoffs. Or until my Lakers jersey arrives via UPS. Whichever happens first." -Kevin Love

Last Week (13)

| | |
| --- | --- |
| 11 | |

Toronto Raptors

"We promise to figure out whether we're tanking or not. It's just too damn hard to lose in the baseborn Eastern Conference." -Masai Ujiri

Last Week (19)

| | |
| --- | --- |
| 12 | |

Dallas Mavericks

"By season's end, we'll remind you that seventh, eighth or ninth place matters. Maybe." -Dirk Nowitzki

Last Week (10)

| | |
| --- | --- |
| 13 | |

Atlanta Hawks

"Well, Al Horford's done. So we cannot guarantee anything. Here's hoping we stay right where we are." -Mike Budenholzer

Last Week (12)

| | |
| --- | --- |
| 14 | |

Memphis Grizzlies

"Sooner, rather than later, we hope to know what the fuck it is we're doing." -Robert Pera

Last Week (18)

| | |
| --- | --- |
| 15 | |

New Orleans Pelicans

"My New Year's Resolution? Experiencing this waxing phenomenon everyone's trumpeting." -Anthony Davis

Last Week (15)

| | |
| --- | --- |
| 16 | |

Denver Nuggets

"Finding a reason not to kill Andre Miller before he's traded. Would also like to ban fried rice, beer-battered chicken and broiled pudenda from the locker room in addition to pizza and nachos." -Brian Shaw

Last Week (11)

| | |
| --- | --- |
| 17 | |

Washington Wizards

"To be the best God damn point guard there ever was." -Eric Maynor

Last Week (20)

| | |
| --- | --- |
| 18 | |

Chicago Bulls

"Shit, I don't know. Pencil me in for restraint. As in 'I'll try not to castrate Gar Forman.'

P.S. Miss you, Lu." -Tom Thibodeau

Last Week (24)

| | |
| --- | --- |
| 19 | |

Charlotte Bobcats

"I aspire to beat Michael Jordan in a game of one-on-one, Connect Four or Patty-cake. Haven't decided which one yet." -Josh McRoberts

Last Week (23)

| | |
| --- | --- |
| 20 | |

New York Knicks

"Bang mad biddies…tied shoes optional." -J.R. Smith
.

Last Week (27)

| | |
| --- | --- |
| 21 | |

Brooklyn Nets

"Screw ties. Open-chested look is in. And screw soda. Apple juice it is." -Jason Kidd

Last Week (22)

| | |
| --- | --- |
| 22 | |

Los Angles Lakers

"Increase membership of 'Please don't Trade Pau Gasol' club to three total." -Kobe Bryant 

Last Week (14)

| | |
| --- | --- |
| 23 | |

Philadelphia 76ers

"Winning will become as foreign as the toenail-clipping Olympics. Seriously, we're about to channel our inner Bucks up in this biatch." -Sam Hinkie

Last Week (28)

| | |
| --- | --- |
| 24 | |

Detroit Pistons

"No more long twos. For real. Unless I'm on a heat check. Or we're ahead by a lot. Or down by a lot. Or the shot clock's running down. Or the game's on the line. Or my conscience tells me to." -Josh Smith

Last Week (17)

| | |
| --- | --- |
| 25 | |

Boston Celtics

"Decidedly not winning the Atlantic Division by any means necessary, even though we could take it in our sleep." -Danny Ainge

Last Week (16)

| | |
| --- | --- |
| 26 | |

Cleveland Cavaliers

"Ruining any chance of bringing LeBron back to Cleveland by signing Deng to a contract we probably shouldn't." -Dan Gilbert

Last Week (21)

| | |
| --- | --- |
| 27 | |

Sacramento Kings

"Pretending not to care when DeMarcus Cousins doesn't earn an All-Star selection, even though DeMarcus Cousins deserves one and even though I care if DeMarcus Cousins gets one." -DeMarcus Cousins

Last Week (25)

| | |
| --- | --- |
| 28 | |

Utah Jazz

"Become more indifferent to the world and people around me, showing how much I don't give a shit by wearing mismatching socks and following every sentence with 'not that I care or anything.'" -Richard Jefferson

Last Week (29)

| | |
| --- | --- |
| 29 | |

Orlando Magic

"Pizza boat Fridays." -Glen Davis

Last Week (26)

| | |
| --- | --- |
| 30 | |

Milwaukee Bucks

"What Glen Davis said." –Larry Sanders Gary Neal Giannis Antetokounmpo

Last Week (30)