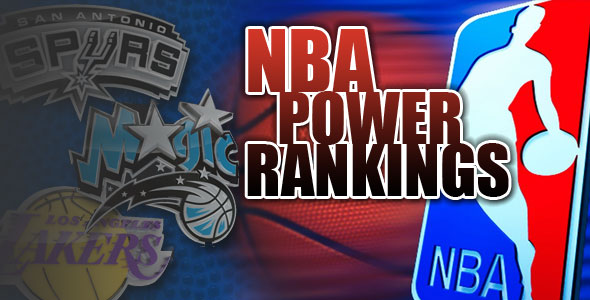 Judgment day has arrived.
Kind of.
Halfway through the 2013-14 NBA season, most of us feel like geniuses. We know stuff now, you see. Real stuff. Important stuff.
Which teams will make the playoffs for sure? We know that. Which teams are absolutely terrible? We know that, too. Why exactly is the Eastern Conference reaching new levels of awful? We like to think we know that as well.
Since dabbling in the unknown is a big part of watching the NBA, it's time to celebrate what we do know. Grades were handed out for each and every team (except the Bucks) (kidding) (though I wish I wasn't) (kidding again) (seriously, I'm not). Recent play was weighted heavily, but is not devout. Example: Brooklyn won't be getting an "A" because Jason Kidd's troops suddenly figured out how to tie their own shoes.
Comprende? Good, because we have work to do, grades to hand out and piping hot blueberry and chocolate-chip muffins to devour*.
*There really aren't any piping hot blueberry or chocolate-chip muffins to devour.
**Welcome back to The Hoop Doctors' PG-13 NBA Power Rankings, where almost anything goes. Language may sometimes not be suitable for those reading at work, in which case I recommend you don't read these aloud or you get a new job. Like most PG-13 movies, we'll permit one F-bomb per post. Those devoid of a sense of humor need not proceed. 
***For a week by week list of all our NBA Power Rankings this season, please visit this page.
NBA Power Rankings
| | |
| --- | --- |
| 1 | |

Indiana Pacers

Grade: A+

These goddamn sonuvabitches are good. Defensively incredible; offensively adequate. They are not a fluke.

Last Week (1)

| | |
| --- | --- |
| 2 | |

Oklahoma City Thunder

Grade: A

Kevin Durant is really, really, really, really, good at basketball. Also, I don't know if you saw, but Kendrick Perkins hit a big-time shot in their victory over Portland. KENDRICK PERKINS.

Seriously, though, OKC keeps grinding in Russell Westbrook's absence.

Last Week (4)

| | |
| --- | --- |
| 3 | |

San Antonio Spurs

Grade: A

Hot damn, the Spurs are good. Again. Unless they're playing really good teams, that is. Then they're not so good. Wonder how that will impact them come playoff time?

Last Week (2)

| | |
| --- | --- |
| 4 | |

Portland Trail Blazers

Grade: A-

Last two losses are picture-perfect examples of why this team might not make it out of the first round come playoff time: No defense, stamina, no defense, no defense, no defense.

Last Week (5)

| | |
| --- | --- |
| 5 | |

Miami Heat

Grade: B

No use pretending the Heat aren't jerking themselves off in between whistles. They don't care, and they're not worried. Blessing and a curse, really. Still, they have LeBron James. I hear he's pretty good.

Last Week (5)

| | |
| --- | --- |
| 6 | |

Golden State Warriors

Grade: B+

Missing that trademark win this side of 2014. Bench is a disaster and Mark Jackson's rotations, at times, make less sense than needle-tipped toothbrushes. Their defense, though: WOW.

Last Week (3)

| | |
| --- | --- |
| 7 | |

Los Angeles Clippers

Grade: B+

Chris Paul's absence has been a blessing in disguise; Blake Griffin isn't just a superstar, he's a superstar worth building around. He's led the Clips to a 6-2 record since Paul went down. And he's balling. Truth told, I cannot say enough about him.

Seriously.

Last Week (8)

| | |
| --- | --- |
| 8 | |

Houston Rockets

Grade: B

Something about this team doesn't feel right. Maybe it's their spotty defense. Or Dwight Howard's fluctuating numbers. Or fact that James Harden's razor is collecting dust. I'm not really sure.

Last Week (8)

| | |
| --- | --- |
| 9 | |

Dallas Mavericks

Grade: B

Monta Ellis is still fun to watch, as is the rest of this team. But don't think for a minute they're going to contend. Sixth seed might even be a stretch, which is why I'm not entirely convinced Dirk Nowitzki will re-sign after this season.

Last Week (9)

| | |
| --- | --- |
| 10 | |

Memphis Grizzlies

Grade: B+

Really wanted to give them an "A++++" because of how tough they've hung despite fielding a subpar defense and offense, but I'm not a crazed asshole. Let's just say the Grizzlies are back. And proving us all wrong. Again.

For real.

Last Week (13)

| | |
| --- | --- |
| 11 | |

Denver Nuggets

Grade: B

Trying to remember last time Nuggets had a good defense and coming up empty. Nevertheless, they're playing .500 basketball in a brutal Western Conference down their best player (Danilo Gallinari). That's (somewhat) impressive.

Last Week (12)

| | |
| --- | --- |
| 12 | |

Phoenix Suns

Grade: A-

Damn right they get an "A-." These Suns are spectacular. They probably won't stay that way—stupid Eric Bledsoe injury—but they rank in the top half of both offensive and defensive efficiency right now. I'm sold.

Last Week (11)

| | |
| --- | --- |
| 13 | |

Atlanta Hawks

Grade: B

No Al Horford, yet they're still playing above-.500 basketball? They'll take it.

Last Week (15)

| | |
| --- | --- |
| 14 | |

Chicago Bulls

Grade: B+

Once you take Joakim Noah's sweet-ass haircut into account, it's impossible to grade this team badly. Playing winning basketball since Luol Deng's departure, and despite Rose's absence, hasn't hurt, either.

Last Week (17)

| | |
| --- | --- |
| 15 | |

Brooklyn Nets

Grade: D

Look, they've played well in 2014, but that doesn't erase the shit show they made us sit through for most of the season.

Last Week (19)

| | |
| --- | --- |
| 16 | |

Toronto Raptors

Grade: B-

Starting to think it's time Masai Ujiri enacted "Operation Let's Lose As Much As Possible" again.

Last Week (10)

| | |
| --- | --- |
| 17 | |

Washington Wizards

Grade: B-

Playoff team? Check. John Wall's balling? Check. Still existing somewhere between "mediocre" and "why the hell aren't we better?" Check again.

Last Week (18)

| | |
| --- | --- |
| 18 | |

Minnesota Timberwolves

Grade: C

Trade Kevin Love and start over. Minny has had a tough schedule, and it's becoming increasingly clear this isn't a playoff team. Ergo, Love is gone after next season anyway. Might as well capitalize off his departure now.

Last Week (16)

| | |
| --- | --- |
| 19 | |

Charlotte Bobcats

Grade: B

Just when you think the Bobcats might pull a playoff berth in the woeful Eastern Conference, Kemba Walker goes down. Not to say they still won't make the playoffs. This is the Eastern Conference we're talking about. It's just sad.

Last Week (20)

| | |
| --- | --- |
| 20 | |

New York Knicks

Grade: F

"Probably overrating them, especially after that loss to the Bobcats. But man, the Knicks have looked, well, just fine. That's cause for optimism in the 'Wait, basketball's actually a sport?' Eastern Conference." -Me, last week.

AKA: Me, proponent of all that is fucking stupid.
.

Last Week (14)

| | |
| --- | --- |
| 21 | |

Los Angeles Lakers

Grade: C-

Watching Nick Young and Ryan Kelly and Kendall Marshall and Pau Gasol has been fun. Seeing the Lakers commit to two years of mediocrity by extending the injured Kobe Bryant has not.

Last Week (24)

| | |
| --- | --- |
| 22 | |

Detroit Pistons

Grade: D

"D" for "Don't ever believe in Detroit. Or Josh Smith. Ever."

Last Week (21)

| | |
| --- | --- |
| 23 | |

Sacramento Kings

Grade: C

So, there might actually be something to this Rudy Gay-Derrick-Williams-DeMarcus-Cousins thing after all, eh?

Last Week (22)

| | |
| --- | --- |
| 24 | |

Cleveland Cavaliers

Grade: D

Only reason these Cavs weren't handed the dreadful "F" is because deep, deep down—where the sun don't shine and Lindsey Lohan's career isn't dead—we knew they would be bad.

Last Week (26)

| | |
| --- | --- |
| 25 | |

Boston Celtics

Grade: C+

Beantown has played some impressive basketball under Brad Stevens. Impressive in the sense that they've been watchable, despite Danny Ainge's best efforts to ensure otherwise.

Last Week (28)

| | |
| --- | --- |
| 26 | |

New Orleans Pelicans

Grade: C

Who would you build your NBA franchise around? If Anthony Davis isn't in your top three, your crack pipe is doing its job.

Last Week (23)

| | |
| --- | --- |
| 27 | |

Utah Jazz

Grade: D

Utah was supposed to be awful, and it is. But some of these youngsters are fun to watch, most notably Trey Burke, who gets at it like a stripper in the Champagne Room.

Last Week (25)

| | |
| --- | --- |
| 28 | |

Philadelphia 76ers

Grade: C+

Ever stop to think at how much better Philly is than we expected it to be? Mind. Blowing.

Last Week (27)

| | |
| --- | --- |
| 29 | |

Orlando Magic

Grade: D

"It's not that we're trying to lose; it's that we're trying to figure out how to win while shitting all over the hardwood." -Jacque Vaughn

Last Week (29)

| | |
| --- | --- |
| 30 | |

Milwaukee Bucks

Grade: F

Contending for a playoff spot was the goal. Front row seats to the crap that crap craps if it could, in fact, crap is what the Bucks got.

Last Week (30)