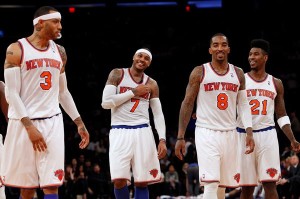 Location, location, location. That applies to real estate, the value of sports franchises and just about everything, really. Regarding sports franchises, the team doesn't even need be that good for the value to be great, as location will supercede most. Look no further than the New York Knicks.
Last season marked the first time the team had won their division in nearly two decades. It also marked the first time they won a playoff series in more than a decade. Translation: the team has been down for a very long time.
Given both of those facts, coupled with a disastrous season so far, they are still the NBA's most valuable franchise, according to Forbes, estimated to be worth $1.4 billion.
Forbes announces its annual valuations of the National Basketball Association's 30 teams, naming the New York Knicks as the most valuable team worth $1.4 billion. Following a three-year renovation of its stadium Madison Square Garden, the Knicks increased 27% in value making the team No. 1 on the list for the second consecutive year. The Los Angeles Lakers, valued at $1.35 billion (No. 2) and the Chicago Bulls valued at $1.0 billion (No. 3) are the only other two NBA teams with a current value of at least $1 billion.
See the full list at Forbes.com.