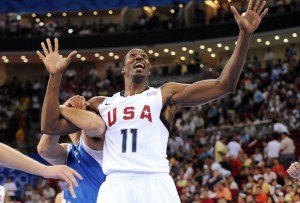 Dwight Howard hasn't played for Team USA in six years. Most recently, he sat out the 2012 Olympics because of back surgery, but was present in 2008.
He intends on playing in the 2014 World Cup of Basketball later this year. This doesn't necessarily mean he'll want to take part in the 2016 Olympics (when he'll be 30), but chances are he'll suit up.
After six years away, Houston Rockets star Dwight Howard will return to USA Basketball with an intent to play in the 2014 World Cup of Basketball, league sources told Yahoo Sports.
Howard's return to the Team USA pool of players for the World Cup in Spain this summer could clear the way for the seven-time All-Star center to be part of the national team at the 2016 Summer Olympics in Brazil.
H/T: Yahoo!