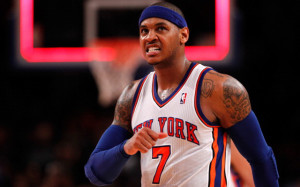 Know how we know that Carmelo Anthony is done with this season? The profanity.
Anthony's frustrations have slowly, surely been bubbling to the surface in recent weeks, as his Knicks have played their way out of playoff contention in the Eastern Conference.
First, there was the whole "glazed donut face ass" tweet he directed at a social-media heckler. Now, an in-person F-bomb has been dropped, according to the New York Post's Marc Berman:
In the final minutes of another disastrous Knicks loss, a boisterous fan shouted at Carmelo Anthony "Nice defense, Melo." According to an eyewitness, Anthony shot back "Go f— yourself," drawing a reaction from other fans in the area.

After the game, a fan on Twitter wrote "Carmelo told me to F off. Huge Philly fan and I got in his head."
Although Anthony wouldn't address his choice words after the game, and there isn't yet video to corroborate this story, it seems par for the course.
The Knicks are awful. Completely and utterly bad. The most expensive shit-show you've ever laid eyes on. That's saying something considering the Nets once had a firm hold on that title. But a turnaround this side of 2014 has them glowing—compared to the Knicks, at least. Because they're just bad.
Not to mention that "glazed donut face ass" is clearly the gateway insult to "go f**k yourself." What we're seeing here is the evolution of Anthony's anger. From social-media jabs, to in-person vocal scuffles, Anthony is clearly pissed. And who can blame him?
Well, personally, me. Just a tiny bit.
The dude is playing his "glazed donut face ass" off, and it shows. It's a shame, really, that the Knicks are wasting this version of Anthony—the willing passer, adjustable scorer and air-swatting, sometimes-shot-blocker. One could argue that the Knicks are actually squandering the best version of 'Melo they've ever had.
Most of that is on the front office. A first-round pick for Andrea Bargnani here; three-year $18 million contract for J.R. Smith there; a place in the lineup and secret stash of double-stuffed Oreos in the locker room for Raymond Felton over there—this team is a poster board for bad decisions remained bad.
But some of that is on Anthony, who will have to take less money this summer if he wishes to leave the Knicks.
I've always been of the mind he would stay, because: money. Lack of other options, too. But not even the most blissfully ignorant of Knicks supporters can say, without a doubt, he isn't leaving. It's a distinct possibility.
If and when he does, he'll have to take less money. And if that's what he ultimately decides to do, I'll shake my head. Not because the Knicks should pay him $129 million over the next five years to stay. It's preferable they don't. Last thing they need is a 35-year-old making $25-plus million by the end of his deal.
Instead, I, presumably along with some of you, will be miffed why he didn't take less with the Knicks to begin with. Had he waited for free agency in 2011, it would have given the Knicks flexibility. You know, like retaining Danilo Gallinari, Wilson Chandler, Timofey Mozgov, Felton (the good version) and this year's first-round pick. Those are all assets the Knicks could have tried to use in any Chris Paul trade.
Doesn't mean I'm putting this season all on 'Melo. Compared to everyone else, he's been spectacular. But he'll have to shoulder some of the blame, because he forced his way to New York, neglecting the same team-first mentality he must embrace to leave.
Yet that's neither he nor there. Anthony's angry, and won't be happy until all you glazed donut face asses and steak quesadilla nostril pudendas go f**k yourselves.
Dan Favale is a firm believer in the three-pointer as well as the notion that defense doesn't always win championships. His musings can be found at Bleacherreport.com in addition to TheHoopDoctors.com.