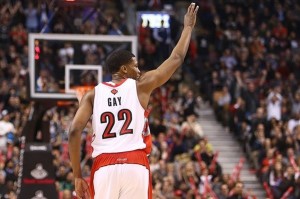 It's all about the future for the Toronto Raptors, and Rudy Gay won't be a part of it.
According to Yahoo! Sports' Adrian Wojnarowski and Marc J. Spears, the Raptors agreed to trade Rudy Gay to the Sacramento Kings:
The Toronto Raptors have reached an agreement in principle to send Rudy Gay to the Sacramento Kings, league sources told Yahoo Sports.

The Kings will send Greivis Vasquez, John Salmons, Patrick Patterson and Chuck Hayes to the Raptors. The Kings will also acquire Quincy Acy and Aaron Gray in the deal, sources said.

Gay was receptive to the trade, a source close to him told Yahoo Sports on Sunday night. "He's very motivated and determined to prove people wrong right now," the source said.

The Raptors and Kings will hold a trade call with the league office on Monday to make the deal official.
First, I told you so. Anyone who reads The Hoop Doctors' weekly Power Rankings—and you should be reading them—know I've been all up in general manager Masai Ujiri's head. No way in hell was he going to leave Toronto's roster like this. It was a mess. He's all about rebuilding. About financial flexibility. About fleecing dumbass teams like the New York Knicks of all their first-round draft picks.
Second, this isn't the real story. Again, Ujiri was always going to blow up this roster. Always, always, always. The real story is what comes next, because according to the Toronto Sun's Ryan Wolstat, Ujiri isn't done:
The Raptors didn't get a ton back for Rudy Gay, Aaron Gray and Quincy Acy — a solid backup point guard in Greivis Vasquez, a reserve big man with a nice offensive touch in Patrick Patterson, a wily veteran defender named Chuck Hayes and John Salmons, who likely won't be around long. None of the newly acquired pieces could be around long, for that matter, and sources say none of their new teammates are guaranteed to be a part of the future in Toronto, either. Not DeMar DeRozan, certainly not Kyle Lowry, and maybe not even Jonas Valanciunas, though he's the least likely of all to be departing. Still GM Masai Ujiri is willing to deal anybody, should the right offer come along as he seeks to re-work a franchise that Bryan Colangelo had run aground. In the meantime, he has several pieces to offer around in return for youngsters, draft picks or more cap space.
All I'm saying is wow. Ujiri wastes little time. And I cannot wait to see what's next. This deal didn't do much for the Raptors in the way of immediate talent, but it gives them $13 million in cap relief next summer. Awesome.
Better still, the Raptors, who are currently second in the Atlantic Division, have just ensured they're not going to make the playoffs in a putrid Eastern Conference. I think. If this trade didn't do it, the next one will. And by doing that, the Raptors will be serious players for Andrew Wiggins and Jabari Parker, or someone else to their liking, this summer.
With Gay gone, the question is: Who has to be next?
Currently constructed, the Raptors aren't the Utah Jazz or Milwaukee Bucks. They need to get worse. Dealing Jonas Valanciunas should be a no-no in the best possible way. On certain nights, he looks like he could be future of this franchise. Terrence Ross shouldn't go anywhere either, unless it's for a star. Which it won't be. Because the Raptors are officially tanking.
DeMar DeRozan might not want to get too comfortable. Kyle Lowry is soooooo gone, too. What with Grevis Vasquez coming in and everything. Anyone with a multiyear contract really: Beware. Beware of Ujiri. He's in possession of an ax and clearly has a license to swing it.
Dan Favale is a firm believer in the three-pointer as well as the notion that defense doesn't always win championships. His musings can be found at Bleacherreport.com in addition to TheHoopDoctors.com. Follow @danfavale on Twitter for his latest posts and all things NBA.