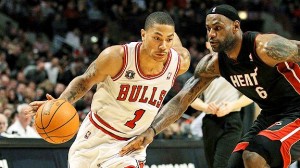 NBA players don't tend to doubt themselves, and for good reasons.
Imagine watching Kobe Bryant, standing at the podium after signing his extension with the Los Angeles Lakers, talking about how he will probably never return to form. Picture LeBron James, sitting by his locker after a Miami Heat loss, promising the world that he'll never win another championship, MVP award or pie-eating contest.
Then, envision Derrick Rose, speaking to a sea of anxious reporters, telling them over and over again that he's never going to be the same. That the Chicago Bulls should find a new building block. That he's unsure if he'll ever dunk again.
Messed up, right? That's exactly why self-conscious people aren't NBA players. Or at least why they're not good ones. We prefer our professional sports stars to be self-assured, to exude a healthy amount of hubris. It's why we love to love and love to hate Kobe. Why we find ourselves constantly kissing LeBron's patootie. Why Keith Van Horn retired a virgin. Confidence matters.
So it comes as no surprise that, when addressing reporters, the injured Rose wouldn't admit the Bulls should head in a different direction, instead iterating that he can still be their franchise cornerstone.
"You can be a fool if you want to," Rose said when asked about people who question his reliability as the Bulls' franchise cornerstone, according to Sports Illustrated's Chris Johnson.
Surprised that you're not surprised? I didn't think so.
This is the same Rose who promised us he would be a better player after tearing his ACL. The same Rose who has assured us of the same thing following his MCL injury, too. Health may fail Rose, but his faith in himself never will.
Neither will LeBron's.
Prior to the Heat getting their ass beat by the Bulls on Thursday, LeBron told reporters he believes Rose will return to MVP form.
"No doubt," he said of Rose's ability to regain his vintage swagger. "He's very young, but more than that he's very determined. I think he'll be great."
Know what we love more than NBA players expressing faith in themselves? NBA players believing in other NBA players.
LeBron, humble and level-headed as ever, wasn't lying. But even if he didn't believe that, he couldn't say anything else.
"No way in hell will he ever be the same," a pessimistic and reckless LeBron could have said. "He's screwed. The Bulls are screwed. The city of Chicago is screwed."
Voicing the previous opinion, or something similar, wouldn't have been a savvy public relations move. Though you do have to wonder if there's some merit to my completely manufactured quote. Is Rose still worth building around? No, he's not. Not like the Bulls initially planned.
As a No. 2 or 1B to another star's 1A, go for it. It's too risky otherwise. This makes two season-ending injuries now. I get that he's only 25, but think about that: He's only 25. More injuries could follow. This could be a recurring theme. Become a common path.
One that the Bulls cannot afford to traverse with Rose and Rose alone.
Dan Favale is a firm believer in the three-pointer as well as the notion that defense doesn't always win championships. His musings can be found at Bleacherreport.com in addition to TheHoopDoctors.com. Follow @danfavale on Twitter for his latest posts and all things NBA.