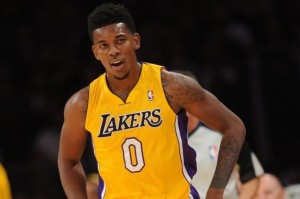 Never say Mike D'Antoni doesn't have faith in his players.
Nick Young has been everything the Los Angeles Lakers expected him to be. Or rather, what they should have expected him to be. Inconsistent, deadly, maddening—he's been Nick Young, the player you can never quite comprehend.
Magic Mike, however, is trying to put a label on him, though—Sixth Man of the Year. According to the Los Angeles Daily News' Mark Medina, the Lakers head coach sees Swaggy P as a potential recipient of the award if Los Angeles continues to surprise some people:
Within a two-month span, Lakers coach Mike D'Antoni has viewed Nick Young as a a streaky shooter and inconsistent defender to a candidate for the NBA's Sixth Man of the Year award.

"He should. If we can get our record [good]," D'Antoni said. "That's going to be the product of the team. He's playing well enough. But if we surprise people, get in the playoffs and do really well, yeah, he'll have a really good chance at it."
That's not a completely unreasonable assertion. Better than Young's campaign for Defensive Player of the Year, anyway. I actually laughed out loud (LOL) at that one. Even though he was kidding, I could picture him being serious, and that's what made it so funny.
Anyway, D'Antoni's thoughts on the matter obviously came courtesy of Young's recent stretch of efficient play. Over the last 10 games, he's shot 45 percent or better from the field seven times and 50 percent or better six times. And he's totaled over 15 points six times as well.
On the year, Young is averaging 14.2 points on 44.1 percent shooting. To put that in perspective, if his shooting percentages hold, he'll tie the second-highest conversion rate of his career. So yes, knocking down 44 percent of his shots is an accomplishment. As is his 16.4 PER. If that stands, it will not only be a career high, it will be the first time he's ever notched a PER above the league average of 15.
We'll resist handing him the award now, though. Other candidates have already emerged, most notably guys like Jeremy Lin, Isaiah Thomas and Jamal Crawford. But I won't discount Young entirely.
If the Lakers remain in the playoff hunt, his case strengthens. If he's able to thrive alongside Kobe Bryant, he has even more of an opportunity to catch the eyes of voters.
Remember, almost everyone loves an inefficient chucker turned reliable performer. J.R. Smith was rewarded with the Sixth Man of the Year award only last season, after putting forth the most consistent effort of his career.
Really, that's what it's about for Young—remaining consistent, something he has failed to do his entire career. People would be shocked if his field-goal percentage climbs, say, above 45 percent. I know I would.
Most likely, though, Young can only hope to remain a part of the conversation. The sixth-man pool is littered with talented players this year, many of whom—like Lin and Thomas—can do more than score. Which Young really can't. He's not a deft passer or effective rebounder and that will inevitably hurt his case.
Becoming a part of the conversation, however, is an accomplishment in itself. One that Young has and will continue to succeed in doing.
Dan Favale is a firm believer in the three-pointer as well as the notion that defense doesn't always win championships. His musings can be found at Bleacherreport.com in addition to TheHoopDoctors.com. Follow @danfavale on Twitter for his latest posts and all things NBA.