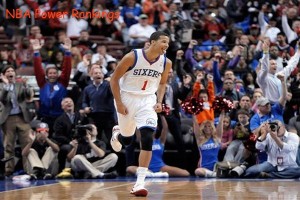 Be careful what you wish for.
Months were spent fawning over the thought of regular-season basketball. The offseason was too much. The preseason was even worse. Meaningful basketball just couldn't get here fast enough.
Mercifully, the regular season came upon us. Then, we blinked. And now, all hell has broken loose.
The Miami Heat appear disinterested, the Minnesota Timberwolves look like a juggernaut and the entire Philadelphia 76ers team should be tested for SHGH (Super Human Growth Hormones).
Serves us right, for thinking we knew what was ahead. Us pundits, analyzing and stuff. What a bunch of idiots. We had no idea what the first week would do to our perception of the league. Everything has changed. For now.
That's the thing about early season power rankings—they're almost never consistent. Unlike that babbling blonde you met at the bar Saturday, first impressions aren't lasting in the NBA. Sometimes, maybe. Most of the time, absolutely not.
So join me as I attempt to shed light on a campaign still shrouded in plenty of darkness. Impromptu and unsustainable success reigns supreme in these parts. Remember that. The following list is bound to look much different next week. Remember that, too.
And finally, remember that no matter what, Michael Carter-Williams is a God.
**Welcome back to The Hoop Doctor's PG-13 NBA Power Rankings, where almost anything goes. Language may sometimes not be suitable for those reading at work, in which case I recommend you don't read these aloud or you get a new job. Like most PG-13 movies, we'll permit one F-bomb per post. Those devoid of a sense of humor need not proceed.
***For a week by week list of all our NBA Power Rankings this season, please visit this page.
NBA Power Rankings
| | |
| --- | --- |
| 1 | |

Golden State Warriors (3-1)

Had Mark Jackson employed Hack-a-Jordan sooner against the Clippers, the Warriors might be undefeated. Also, Stephen Curry (!!!).

Last Week (7)

| | |
| --- | --- |
| 2 | |

Indiana Pacers (4-0)

Is it wrong that I still don't believe in this team? And what a start David West, the $36 million man, is off to. Not.

Last Week (6)

| | |
| --- | --- |
| 3 | |

Minnesota Timberwolves (3-1)

Holy crap. The Timberwolves are healthy. And running. And backdoor cutting the hell out of their opponents. But is this sustainable?

Last Week (13)

| | |
| --- | --- |
| 4 | |

San Antonio Spurs (3-1)

My God the Spurs are consistent, which isn't to be confused with boring.

Last Week (2)

| | |
| --- | --- |
| 5 | |

Miami Heat (3-2)

This is more out of blind faith than anything else. We know what the Heat are capable of. We also know the regular season is a formality for them. Still, a loss to the Sixers cannot happen again. Ever.

Last Week (1)

| | |
| --- | --- |
| 6 | |

Oklahoma City Thunder (2-1)

Russell Westbrook is back sooner than expected and Jeremy Lamb is playing some good basketball. Now, what can we do about their Kendrick Perkins problem?

Last Week (4)

| | |
| --- | --- |
| 7 | |

Los Angeles Clippers (3-1)

A Doc Rivers-coached team playing offense? But not defense? Surely this is a joke. Oh, what's that? Blake Griffin is on the team, you say? Okay, sounds about right.

Last Week (5)

| | |
| --- | --- |
| 8 | |

Houston Rockets (4-1)

The Rockets had a chance to make a statement with a win over the Clippers. Naturally, they blew it.

Last Week (11)

| | |
| --- | --- |
| 9 | |

Philadelphia 76ers (3-1)

What. The. FUCK.

Last Week (30)

| | |
| --- | --- |
| 10 | |

Chicago Bulls (1-2)

Derrick Rose will return to form. It will happen. I think. Perhaps. Hopefully. So many of your fantasy teams depend on it, after all.

Last Week (3)

| | |
| --- | --- |
| 11 | |

Brooklyn Nets (2-2)

So the Nets beat the Heat, but lost to the Cavs and Magic. Okay then. Good win over the Jazz, guys. Way to prove you can finally beat a non-playoff team

Last Week (9)

| | |
| --- | --- |
| 12 | |

Portland Trail Blazers (2-2)

Fully expect this to trend downward. That is, unless Damian Lillard and LaMarcus Aldridge continue to notch 25 points per game. Which they won't.

Last Week (20)

| | |
| --- | --- |
| 13 | |

New York Knicks (1-3)

Carmelo Anthony is looking to pass, it's crazy. Problem is, he has no consistent No. 2 to pass too. Plus, James Dolan remains a dumbass. This has the potential to end badly.

Last Week (8)

| | |
| --- | --- |
| 14 | |

Dallas Mavericks (3-1)

Dallas better stop winning so much or Mark Cuban might actually believe he has a contender on his hands. Spoiler: he doesn't.

Last Week (18)

| | |
| --- | --- |
| 15 | |

Los Angeles Lakers (2-3)

Sorry, but if the Lakers can play .500 basketball until Kobe Bryant returns they're going to playoffs. And man oh man, would I like to see Xavier Henry get some burn in the playoffs.

Last Week (19)

| | |
| --- | --- |
| 16 | |

Memphis Grizzlies (2-2)

Damn, Memphis. Keep this up, and it will make sense to deal Zach Randolph before December is out.

Last Week (10)

| | |
| --- | --- |
| 17 | |

Phoenix Suns (3-1)

Phoenix is supposed to be tanking, but Eric Bledsoe doesn't give two flying shits.

Last Week (29)

| | |
| --- | --- |
| 18 | |

Detroit Pistons (2-2)

Congrats, Pistons. You beat the Celtics and Wizards. And you almost took down the Grizzlies. Brandon Jennings is back, too. Let the good times, missed shots and mediocre basketball roll.

Last Week (21)

| | |
| --- | --- |
| 19 | |

Orlando Magic (2-2)

While I know it's early, someone oughta explain to many of these lottery teams what tanking is all about. All in favor of the Bobcats, say "aye."

Last Week (24)

| | |
| --- | --- |
| 20 | |

Toronto Raptors (2-2)

Rudy Gay is shooting just under 33 percent from the floor. I imagine Masai Ujiri is going out of his mind right now.

Last Week (22)

| | |
| --- | --- |
| 21 | |

Cleveland Cavaliers (2-2)

Cleveland beat the Nets and the Timberwolves, but they lost to the Bobcats and were pummeled by the Pacers. I don't know what to think about them.

Last Week (17)

| | |
| --- | --- |
| 22 | |

Atlanta Hawks (2-2)

Jeff. Teague. That is all.

Last Week (15)

| | |
| --- | --- |
| 23 | |

New Orleans Pelicans (1-3)

These Pellies clearly miss Ryan Anderson. They haven't played good basketball since almost beating the Pacers and are currently sitting in last place in their division. Anthony Davis has looked good, though. So there's that.

Last Week (16)

| | |
| --- | --- |
| 24 | |

Sacramento Kings (1-3)

This just in: DeMarcus Cousins is good at basketball. The Kings can score. And they still don't play good defense.

Last Week (25)

| | |
| --- | --- |
| 25 | |

Denver Nuggets (0-3)

I may have overrated the Nuggets. Like really overrated them. Like if they keep this up, they may not need Danilo Gallinari to get healthy because Andrew Wiggins will be just around the corner.

Last Week (12)

| | |
| --- | --- |
| 26 | |

Washington Wizards (0-3)

You guys begged me not to do it, but I did it anyway—I overestimated a team led by John Wall. (Insert sad face here).

Last Week (14)

| | |
| --- | --- |
| 27 | |

Milwaukee Bucks (1-2)

Milwaukee is the only team in the NBA that is accidentally tanking. In doing so, they're failing to play Larry Sanders even 20 minuets a night. I blame general manager John Hammond for giving Larry Drew Zaza Pachulia. The rat bastard.

Last Week (23)

| | |
| --- | --- |
| 28 | |

Charlotte Bobcats (2-2)

Michael Jordan says the Bobcats don't tank, which explains absolutely nothing. Until Al Jefferson returns, they're one of the worst teams in the NBA. After that, they'll still be one of the worst teams in the NBA.

Last Week (28)

| | |
| --- | --- |
| 29 | |

Utah Jazz (0-4)

It's settled, then. The Jazz are tanking.

Last Week (26)

| | |
| --- | --- |
| 30 | |

Boston Celtics (0-4)

Take notice, Philly and Phoenix. Boston can teach you how to tank.

Last Week (27)