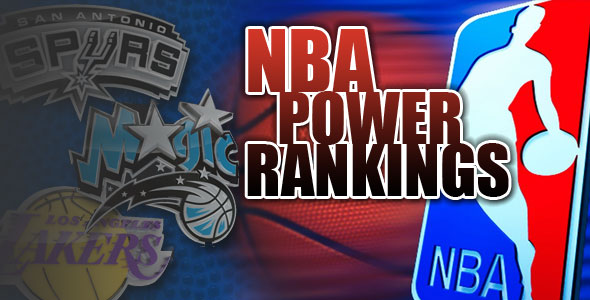 Now we're getting somewhere.
More than 10 percent of the NBA season is in the books, allowing us to form conclusions based off more than two games and a bottle of Grey Goose. Now's the time when the tankers begin to settle in and contenders that aren't the Miami Heat start playing like they care. Now's the time teams become consistently bad or predictably good. Now's the time to start wondering what Andrew Wiggins looks like in a Utah Jazz jersey.
Okay, I'm lying. Only partially, though. Utah is actually Riggin' for Wiggins quite nicely.
The Association, however, is still all kinds of messed up at the moment. Outfits like the Heat and tanking Sixers seem to be coming into their own, but we're still waiting for teams like the New York Knicks and Brooklyn Nets to realize they're not into the paying luxury tax to lose.
Sometime soon, the league might be set in its ways. Off-season forecasts can be deemed genius or flat-out dumb, as we'll know which teams we were expecting too much of. Conversely, we'll also know who we underestimated (spoiler: it won't be the Houston Rockets).
Right now, it's still a relative free-for-all, one the San Antonio Spurs are walking all over. Seriously, all they do is win. The Indiana Pacers, too. Those ever-stingy Memphis Grizzlies? Not so much–unless they're playing the Los Angeles Clippers. Speaking of whom, those Clippers might be overrated. Not Net and Rockets overrated, but why-isn't-defense-in-their-vocabulary drummed up.
See? It's a mess. Absolute melee of questions.
Never fear, because I have answers. They may not be the ones you're looking for, but I have them all the same. From what's gotten into the Portland Trail Blazers to how many licks it takes to get to the center of your mom a tootsie pop, I'm sitting on a crystal ball.
Join me as I try to make sense of a league currently priding itself on shitting all over our initial expectations.
**Welcome back to The Hoop Doctor's PG-13 NBA Power Rankings, where almost anything goes. Language may sometimes not be suitable for those reading at work, in which case I recommend you don't read these aloud or you get a new job. Like most PG-13 movies, we'll permit one F-bomb per post. Those devoid of a sense of humor need not proceed. 
***For a week by week list of all our NBA Power Rankings this season, please visit this page.
NBA Power Rankings
| | |
| --- | --- |
| 1 | |

San Antonio Spurs

No, it can't be. Say it ain't so. This isn't possible. The Spurs? No. 1? How the… What the… Sonuva… All they do is in win. What gives?

Last Week (2)

| | |
| --- | --- |
| 2 | |

Indiana Pacers

I won't say I jumped at the opportunity to move the Pacers down, but it is implied. For many reasons, I still don't trust them. Their defense-first morals won't continue to dominate the regular season. Expect this to be the first of many, many falls. Still, though, give it up for Paul "I used to be overrated but now I'm properly rated as a superstar" George.

Last Week (1)

| | |
| --- | --- |
| 3 | |

Golden State Warriors

There might not be a better two-way team in the NBA. Defense. Offense. Special teams. Obnoxiously incredible three-point shooting. Eloquent hyperboles. The Warriors can do it all.

Last Week (4)

| | |
| --- | --- |
| 4 | |

Miami Heat

Finally, the Heat are beginning to look like the Heat again. And LeBron James like God again. And Dwyane Wade like Old Man River dressed as Dwyane Wade again.

Last Week (8)

| | |
| --- | --- |
| 5 | |

Oklahoma City Thunder

Losses to the Clippers and Warriors worry the hell out of me. Russell Westbrook's continued inefficiency worries the hell out of me, too. Then I look at Kevin Durant's cold-hearted offensive game and I feel better about the Thunder, the mole on Angelina Jolie's forehead and the possibility for world peace.

Last Week (3)

| | |
| --- | --- |
| 6 | |

Minnesota Timberwolves

The Timberwolves are for real. Kevin Martin still can't miss from deep. Kevin Love is a monster. Ricky Rubio hates the word "moist."

One of these things is not true, which is it?

Last Week (5)

| | |
| --- | --- |
| 7 | |

Portland Trail Blazers

Their schedule hasn't been as easy as you think. Portland moves the ball extremely well, Damian Lillard and LaMarcus Aldridge continue to score and Thomas Robinson sightings are coming in more frequent doses. My whole "the Blazers won't make the playoffs" thing seems stupid right about now.

Last Week (9)

| | |
| --- | --- |
| 8 | |

Los Angeles Clippers

Doc Rivers' crew let up 106 points to the Grizzlies. Over 100 points. To the Goddamn Grizzlies. Shame on you, Clippers. Shame on you.

Last Week (6)

| | |
| --- | --- |
| 9 | |

Dallas Mavericks

Someone pinch me. I must be dreaming. I'm not? Well, let's start taking bets to see how long before Dallas' defense, or lack thereof, completely screws them over

Last Week (10)

| | |
| --- | --- |
| 10 | |

Chicago Bulls

Chicago's offensive execution has reminded me there are things more painful than jerking off with sandpaper.

Last Week (11)

| | |
| --- | --- |
| 11 | |

Phoenix Suns

If the Suns are still above .500 in a couple weeks, Goran Dragic is gone.

Last Week (7)

| | |
| --- | --- |
| 12 | |

Houston Rockets

Overrated. Omer Asik isn't happy, their defense sucks something more awful than feces-dipped donkey dick and they're running isolations like Mike Woodson is their coach. Glass half full-style? It could be worse. Their defense could be something more awful than two shit-flavored donkey dicks. What's that? It is already? That's unfortunate.

Last Week (12)

| | |
| --- | --- |
| 13 | |

Atlanta Hawks

Mike Budenholzer has these predators of the sky passing, scoring and continuing to fly straight toward mediocrity. Too bad he can't do something about Dennis Schroder's I'm-here-to-take-over-the-world-and-defecate-on-your-welcome-mat smile as well. It gives me the heebie jeebies.

Last Week (13)

| | |
| --- | --- |
| 14 | |

Memphis Grizzlies

Prediction of the Week: The Grizzlies fall out of the top 16 before we meet again. Unless, of course, David Stern allows them to play the Clippers the rest of the way. Los Angeles' defense is so bad, it made Memphis' offense look good. Developing a cure for herpes would probably be easier than that, so yes, it's a big deal.

Last Week (19)

| | |
| --- | --- |
| 15 | |

Los Angeles Lakers

They've had one of the toughest schedules to date yet they have almost as many wins as the Nets and Knicks combined. Also, Kobe Bryant is on his way back. Maybe. We think. He has to be. I can't take Jodie Meeks being the Lakers' go-to scorer for much longer.

Last Week (16)

| | |
| --- | --- |
| 16 | |

Denver Nuggetss

The Nuggets are good again! And all it took was the indefinite absence of JaVale McGee, the realization that Ty Lawson is a point God and Evan Fournier fever to make it happen.

Last Week (28)

| | |
| --- | --- |
| 17 | |

Philadelphia 76ers

Michael Carter-Williams has been cloaked in bubble wrap and losses are beginning to pile up. Finally. Perhaps general manager Sam Hinkie won't be forced to trade Evan Turner and Thaddeus Young for a handful of I.O.U.s after all.

Last Week (14)

| | |
| --- | --- |
| 18 | |

Charlotte Bobcats

Apparently, the Bobcats don't suck…that much. Go figure.

Last Week (21)

| | |
| --- | --- |
| 19 | |

New Orleans Pelicans

How long before they phone the Nuggets about the injured-McGee's availability?

Last Week (17)

| | |
| --- | --- |
| 20 | |

Orlando Magic

Arron Afflalo and Nikola Vucevic are balling. Victor Oladipo has been wonderfully okay. And I miss Tobias Harris. That is all.

Last Week (26)

| | |
| --- | --- |
| 21 | |

Toronto Raptors

When your two leading scorers—Rudy Gay and DeMar DeRozan—are both shooting under 41 percent from the floor, is it safe to say you're going nowhere? Or do those in Canada prefer the Raptors be referred to as "pleasantly goalless?"

Last Week (25)

| | |
| --- | --- |
| 22 | |

Cleveland Cavaliers

All is not well in Cleveland. From Kyrie Irving shouldering too heavy a burden, to Dion Waiters' ugly looking jump shot, to LeBron seeing their dysfunction and thinking "No way in hell am I going back there," the Cavs have some issues to work out.

Last Week (18)

| | |
| --- | --- |
| 23 | |

Detroit Pistons

Things are looking up in Detroit. And by "things," I mean the Pistons' heads, because they continue to look up at a majority of the Eastern Conference.

Last Week (27)

| | |
| --- | --- |
| 24 | |

New York Knicks

Chaos. But I'm done talking about that. Instead, I'll take this opportunity to go on record as saying I think LeBron will wind up with the Knicks by 2015. There, I said it. Please send all hate mail or love letters to my Twitter account.

Last Week (23)

| | |
| --- | --- |
| 25 | |

Boston Celtics

That four-game winning streak still fresh in our minds, the Celtics are back on the tanking fast track. I also remain interested to hear Danny Ainge's excuse once they finally relent and trade Rajon Rondo.

Last Week (15)

| | |
| --- | --- |
| 26 | |

Sacramento Kings

Don't let the Kings' incredibly tough schedule fool you—they're awful. Except for those guys DeMarcus Cousins and Isaiah Thomas. They're pretty good.

Last Week (19)

| | |
| --- | --- |
| 27 | |

Brooklyn Nets

Below-average offense. Subpar defense. No passing game. Rebounding is a joke. Half the roster needs midday naps. Brooklyn is all kinds of fucked up.

Last Week (22)

| | |
| --- | --- |
| 28 | |

Washington Wizards

This team should be better, but everything outside their superior ball movement is hard to watch. How about Bradley Beal, though? Might be time to set his ceiling higher than John Wall's.

Last Week (20)

| | |
| --- | --- |
| 29 | |

Milwaukee Bucks

I love the smell of accidental tankers in the morning. And afternoon. Night, too. Anytime, really. Thanks for the memories in advance, Milwaukee. They're bound to be not-so-great.

Last Week (24)

| | |
| --- | --- |
| 30 | |

Utah Jazz

Have the Jazz fitted Andrew Wiggins for a jersey yet? I'm now beginning to understand why they didn't extend Gordon Hayward…

Last Week (30)