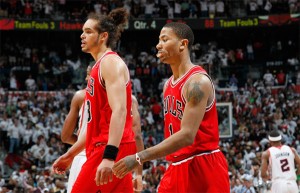 Heading into the 2012-2013 season, the Chicago Bulls had some rather obvious injury concerns. Star point guard Derrick Rose had blown out his knee the previous spring and was not expected back that season, while center Joakim Noah was recovering from an ankle injury from the previous season's playoffs.
This season, injury concerns remain at the forefront, as those two players are paramount to the Bulls' success. Rose believes that he will be 100 percent for the start of the season, but has already missed some time during the preseason. ACL injuries are notoriously difficult from which to return, so it remains to be seen if Rose is the same, dominant player that he was before hurting himself.
Joakim Noah Injuries
Perhaps the main reason for concern is the setbacks that both stars have already had this fall. Noah has only played in one preseason game thus far and felt discomfort in his groin. He has now been shut down by Coach Tom Thibodeau and will not see the court again until he is completely healthy. At the moment, there is no time frame on his return.
In the meantime, Nazr Mohammed, Taj Gibson and Erik Murphy will see time in the lineup in place of Noah, although each is a clear downgrade for the Bulls. If Noah is not healthy to start the season, the Bulls could struggle out of the gate. Noah has stepped up on offense, but he won't make much difference if he's sitting in a therapy pool during the game.
Derrick Rose Injuries
Of course, Bulls' fans are mostly concerned about the health of 2011 league MVP Derrick Rose and his surgically repaired knee. Fans have not seen Rose take the court in a meaningful game since an April 28, 2012 playoff match-up with the Philadelphia 76ers, so obvious questions exist regarding his health.
The good news is that Rose did not report any adverse effects after playing 22 minutes in his home preseason debut. While it remains to be seen if his knee will hold up to the rigors of the 82-game-long NBA schedule (which has them opening at Miami), getting through some preseason games without aggravating it is a step in the right direction.
Cautiously Optimistic
Injuries are a concern for every team in the NBA, so there is no reason for the Chicago Bulls to be more worried than anyone else is. If LeBron James went down with an injury tomorrow, the Miami Heat would have very little chance of winning a third straight NBA title, much like the Bulls' fate lies with the health of Derrick Rose.
The main aspect to consider is now these injuries are being handled. Both players are being brought along slowly, which shows that the coaching staff is worried about the big pictures, rather than winning a few games at the start of the season. If Rose feels as though his knee is not 100 percent, he will surely be given time to recover.
Rose's injury was a freak accident that is very unlikely to replicate itself. There is no way of predicting injuries like that, or like Kevin Ware's now-famous injury, so there's also no reason to worry about them before they occur. While seeing Noah struggling with another injury is troublesome, the fact that it his is groin, rather than his ankle or foot that has kept him out of numerous games over the last three seasons, is encouraging.
Only time will tell how the new season turn out, but for Chicago Bulls fans, there is finally hope.
—
Scott Huntington is a writer, reporter, blogger, and long-time sports fan. He currently lives in PA and with his wife and son, following and writing about all things sports and beyond. Follow Scott at @SMHuntington