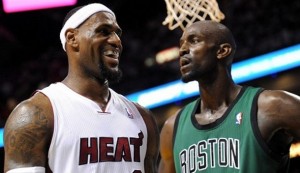 If this doesn't get you excited for the start of the NBA season, nothing will.
LeBron James and Kevin Garnett have engaged in a war of word of sorts. The other day, LeBron James gave his opinion on the backlash Ray Allen received for leaving Boston, only to have Doc Rivers, Garnett and Paul Pierce do the same a year later.
"I think the first thing I thought was, 'Wow, Ray got killed for leaving Boston, and now these guys are leaving Boston,'" James said. "I think it's OK; I didn't mind it. But there were a couple guys who basically [expletive] on Ray for leaving, and now they're leaving.

"That's the nature of our business, man. I don't know what Boston was going through at the end of the day. I know Ray had to make the best decision for him and his family and his career. Doc, KG and Paul did that as well. You can't criticize someone who does something that's best for their family."
Naturally, Garnett fired back. But that doesn't mean LeBron isn't right. Remember, Garnett had to willingly waive his no-trade clause in order to leave.
"Tell LeBron to worry about Miami. He has nothing to do with Celtic business."
H/T: SI