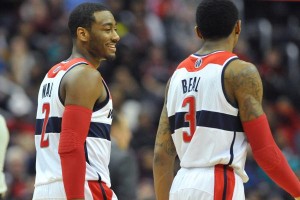 Three years later, John Wall is ecstatic to be a member of the Washington Wizards.
Actually, he's always been elated at the prospect of playing for the Wizards and city of Washington, hence the five-year, $80-million extension he inked over the summer. But this year is different; this team is different. One of the NBA's newest max-contract stars has never been more excited than he is right now, according to USA Today's Jeff Zillgitt:
This is the most exciting team I've played with. They brought back players I enjoy playing with. Al Harrington wanted to join the team. Everybody is professional. Those situations let us know we can be a team that can win."

Indeed this is the most relevant faction the Wizards have fielded since Wall arrived. These last three seasons have been marked by losing, and some more losing. The 29 games Washington won last year were the most its notched since Wall was drafted, and the team has snagged just 72 total victories since 2010. For reference, the Miami Heat won 66 games last season alone. So yeah, it's been a rough stretch in our nation's capital, and not just because the United States government is full of crap.

This is supposed to be the year all the turmoil, all the trials and tribulations are put behind Wall and the Wiz. He finally has a respectable supporting cast, and the Wizards finally have a team that, on paper, looks good enough to make the playoffs in the wide-open Eastern Conference.

Together, Wall, Bradley Beal and Otto Porter (currently injured) should form quite the athletic, fast-break inclined triumvirate. When healthy, Nene is one of the more crafty offensive bigs in the game and as Wall alluded to, the addition of Al Harrington adds instant offense and experience to the bench.

Veterans Trevor Ariza and Emeka Okafor (injured, too) also make for nice pieces. Martell Webster is coming off a career year and perhaps this is the season Jan Vesely shows he was worth that sixth-overall pick in 2011. Glen Rice Jr. could even have a nice impact as a spot-up shooter off the pine.

Point being, the Wizards can be good. Not incredible, or even worthy of contention, but good enough to make the playoffs. Will they get out of the first round? Eh. That mostly depends on how the Eastern Conference unfolds.

Spots one through five are all sewn up, courtesy of the Heat, Chicago Bulls, Indiana Pacers, New York Knicks and Brooklyn Nets. The final three slots are what's really up for grabs, and it's anyone's guess as to who steals them. The Detroit Pistons, Cleveland Cavaliers, Milwaukee Bucks, Atlanta Hawks, Toronto Raptors and Wizards are all vying for the same position.

Push comes to shove, I'd pencil in the Hawks as the sixth seed. They always find a way to stay mediocre. After them, I think you have to give the Wizards the edge over everyone else.

Detroit will be without Brandon Jennings for awhile, Milwaukee—despite what others say—is going to be terrible and I'll be damned if Masai Ujiri doesn't enact Operation Tank Now before the season's out for the Raptors. At full strength the Cavs could be better than Wizards, but betting on Cleveland to be healthy is like sticking your head in the oven—you don't do it. Andrew Bynum's status, as always, is up in the air and Kyrie Irving, Anderson Varejao, Dion Waiters and No. 1 pick Anthony Bennett aren't poster children for durability.

Which means the Wizards have a real shot at making the postseason. It even means they should make the playoffs. Anything less would be a lost season for Wall and his teammates.

"I should be in the playoffs," Wall said, per Blecher Report's Howard Beck.

He most definitely should and, ability to remain healthy withstanding, probably will.

Dan Favale is a firm believer in the three-pointer as well as the notion that defense doesn't always win championships. His musings can be found at Bleacherreport.com in addition to TheHoopDoctors.com. Follow @danfavale on Twitter for his latest posts and all things NBA.