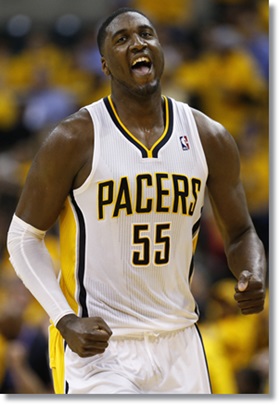 Ever since the 2012 NBA Playoffs, Pacers center Roy Hibbert has really made a name for himself as one of the best all-around big men in the Association, or at least in the Eastern Conference.
The former NCAA standout at Georgetown started his career slowly, averaging only 7.1 points and 3.5 rebounds as a rookie back in '08-'09, after leading the Hoyas to the 2007 Final Four and losing to the Steph Curry led Davidson squad in 2008.
But after trimming the fat and getting a much stronger core, thanks to martial arts training, Hibbert was a one man wrecking crew inside the painted area as the Pacers gave the World Champion Miami Heat a run for their money in both the 2012 and 2013 postseason.
Now that he's a first time All Star, it will be much harder for the 7'2 and 280lb behemoth to sneak up on opposing big men in the Eastern Conference, even if that does include a talented group like Andrew Bynum, Tyson Chandler, Kevin Garnett, and Joakim Noah as potential opponents in the post come next season.
With David West re-signed in free agency, Luis Scola added to bolster the 2nd unit, and former All Star Danny Granger finally back from injury, along with up-and-coming PG Lance Stephenson with another year under his belt, surely the Pacers are hoping Hibbert will be key in exposing Miami's lone weakness, inside play in the half-court come playoff time.  We at least now know that Indiana may be the one Eastern Conference team that doesn't fear the Heat.
Even though he has now reached All Star status, Hibbert isn't resting on his laurels and has taken up boxing as a way to further increase his stamina and lateral footspeed with future Hall of Fame big man Tim Duncan, down in San Antonio.
By the looks of a recent pic of the two after a sparring session, it appears as if Roy has been hitting the weights hard and may have even grown a few more inches as he completely dwarfs the "Big Fundamental", who is a legit 7'0 and 250lbs….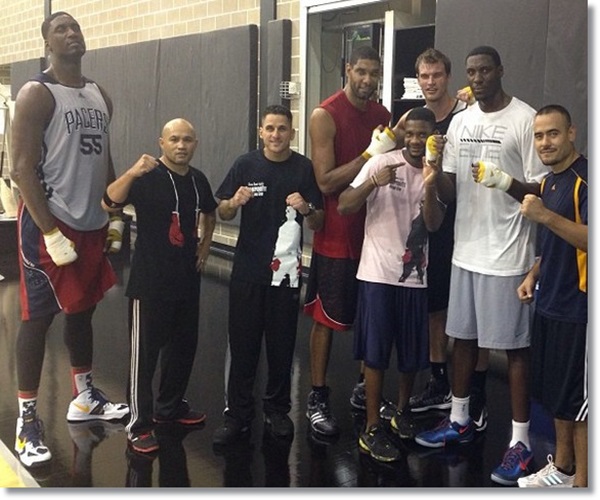 Allen Moll has been a lifelong NBA and NCAA College Basketball fan who watches and studies games religiously, and coaches youth basketball in his native Lehigh Valley region of Pennsylvania. Allen has also provided content to Bleacherreport.com, Upperdeckblog.com, Cleveland.com, CSN Philly.com, Buckets Magazine, in addition to being a tenured NBA and NCAA columnist for TheHoopDoctors.com.