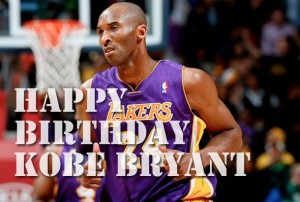 It's hard to believe that Kobe Bean Bryant, otherwise known as the "Black Mamba", turns 35 years old today.
I still can remember Kobe as an arrogant teenager back in 1996, when he was already being mentioned in the same breath as NBA all time great Wilt Chamberlain, as he was shattering Pennsylvania state high school scoring records at Lower Merion High School, just north of Philadelphia.
But despite having prototypical size and abilities to play the SG position right away, many still weren't quite sure of just how good Kobe would become, as even on draft night in 1996, Bryant fell all the way to the 13th overall pick of the Charlotte Hornets.
But Lakers GM Jerry West saw something special in Bryant, as he was promptly traded to the Lake Show, and as we say, the rest became NBA history.
Beginning with winning the 1996 NBA Dunk Contest as a rookie, to making his first of 15 All Star Game appearances in '98, to winning 3 consecutive NBA Titles alongside Shaq from '00-'02, earning back-to-back sc0ring crowns in '06 and '07, winning league MVP in '08, then winning 2 more NBA Titles in '09 and '10, winning 4 All Star Game MVP's, bringing home 2 Gold Medals in Olympic competition, and of course, scoring 81 points in an NBA game, is there any doubt that Kobe is what NBA legends are made of?
Even as he goes through perhaps the toughest offseason of his career, rehabbing from a nasty torn Achilles injury sustained last season, is their any doubt he will return to form as one of the league's current Top 25 Players of 2013-2014?
In addition to the many NBA records like, becoming the youngest player ever to score 30,000 points, Kobe will go down as one of the most fierce competitors we've ever seen on the hardwood, on par with the drive of Michael Jordan, Kevin Garnett, and Bill Russell.
Kobe Bryant has been one of our favorite all time players to cover hear at THD, as he ranks #7 in our Top 50 NBA Players of All Time.
So I think I speak for all of the writers here at THD, when I say Happy 35th Birthday to the man, the myth, the legend, known as Kobe Bryant and good luck coming all of the way back from achilles surgery.  Let's check out some of Kobe's top plays during his career………
Kobe Bryant Scores 81 Points:
Kobe Bryant's Top 10 Plays of His Career:
All 28 Kobe Bryant Game Winners Of His Career:
Kobe Bryant 45 Pts (NBA Record 12 3 Pointers) vs Seattle:
Kobe Bryant You Showed Us Nike Ad – NEW:
Allen Moll has been a lifelong NBA and NCAA College Basketball fan who watches and studies games religiously, and coaches youth basketball in his native Lehigh Valley region of Pennsylvania. Allen has also provided content to Bleacherreport.com, Upperdeckblog.com, Cleveland.com, CSN Philly.com, Buckets Magazine, in addition to being a tenured NBA and NCAA columnist for TheHoopDoctors.com.