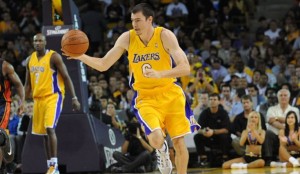 Breathe easy followers of obscure NBA washouts, Adam Morrison's championship rings are fine.
According to Krem.com, detectives recovered two West Coast Conference Championship rings that were stolen from the former Gonzaga standout. Initially, it had been reported that it was Morrison's NBA championship rings that were stolen. He won two during his brief stint with the Los Angeles Lakers:
The parents of Adam Morrison confirmed Tuesday that detectives found their son's West Coast Conference Championship rings. The two stolen rings were recovered in early August according to authorities but have not been returned. A third ring is still missing.

A detective originally reported that it was Morrison's NBA Championship ring that was stolen. Morrison won two NBA Championships while playing for the Los Angeles Lakers. However, Morrison's parents said the rings were actually from the WCC Championship.
Collective sigh of relief on three. One, two, THREE. There, isn't that better?
Per the report, Morrison's WCC rings were stolen from his parents' house in North Spokane, Washington. A neighbor phoned them to let them know their garage door was open. His parents called the police, who noticed empty drawers and a missing family safe in the garage.
Joking aside, robberies suck. They just plain suck. I myself—knock on wood–have never been "robbed." I've had a MacBook Pro and a couple of iPod's stolen from me, but nothing as serious as a break-in at my home (slam on wood twice more).
In this case, authorities were able to track down the missing merchandise. Or rather, most of it. A third ring is reportedly still missing. Which also sucks.
Those rings aren't just gleaming pieces of hardware, they're memories from the good old days. You know, before Morrison left Gonzaga, never to make it in the NBA. My heart feels for him in that regard.
At the risk of sounding cruel, those rings could also mean so much more to him than the ones he "earned" with the Lakers. I put "earned" in quotation marks because Morrison appeared in a combined 39 regular season games for Los Angeles between 2008 and 2010. During the playoffs in 2009, he didn't make a single appearance. Then, in 2010, he saw the light of two postseason contests, logging a whopping 13 total minutes.
He was never really a part of those teams. Not an integral part, at least. At Gonzaga, however, he was the bouncy-haired man. In his final season at school, Morrison averaged a show-stomping 28.1 points per game. His scoring prowess compelled the Charlotte Bobcats to draft him with the No. 3 pick in 2006.
Sadly, after notching 11.8 points during his rookie campaign, Morris sustained a knee injury that forced him to miss all of the 2007-08 season. He was never the same, and wound up playing just three total seasons before finding himself out of the league for good, sans some Summer League cameos.
Prior to the start of August, CBS Sports' Gary Parrish Morris would be returning to Gonzaga as a member of the coaching staff, reuniting him with setting that helped make him a top NBA prospect.
Not much else has gone right for Morrison since leaving Gonzaga. At 29, he should still be in the NBA. That had to be the plan. Not this. Returning to where it all began, however, will give Morrison the fresh start he needs.
Hopefully one that includes the possession of all his championship rings.
Dan Favale is a firm believer in the three-pointer as well as the notion that defense doesn't always win championships. His musings can be found at Bleacherreport.com in addition to TheHoopDoctors.com. Follow @danfavale on Twitter for his latest posts and all things NBA.