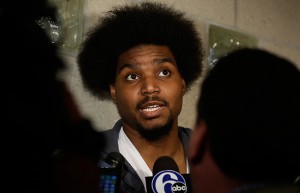 A few days ago, we reported that the Cavs had interest in Andrew Bynum. Well, that interest turned into a reality, as the big man has in fact signed with the Cavs. However, due to his shaky knees, his contract isn't fully guaranteed and poses little risk for Cleveland.
On paper, the Cavs have assembled a nice young team. In fact, if they stay healthy (which is no easy task seeing how Kyrie Irving is always hurt), they could be pretty interesting next year.
Bynum agreed Wednesday to sign with the Cavaliers on a two-year deal worth $24 million. But that $24 million, really, is just $6 million in guaranteed money for next season. The other half of Bynum's salary next season would come if he reaches certain incentives. The Cavaliers have a club option for the second and final year of the deal.
H/T: nba.com