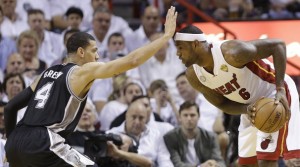 LeBron James flopped against the San Antonio Spurs in Game 3.
Not David-Stern-is-so-going-to-fine-him flopped, but put-up-a-dud-when-the-Miami-Heat-needed-him-most flopped.
James closed out Game 3 with 15 points on 7-of-21 shooting (33 percent), including a 1-of-5 showing from downtown (20 percent). He also connected on just 2-of-14 of his shots from outside the paint. Sheesh.
For a guy who knocked down 56.5 percent of his field-goal attempts overall and 40.6 percent of his treys during the regular season, that's a pretty bad performance. One that we should pay homage to the Spurs' defense for, right?
Not exactly.
Both Danny Green and Kawhi Leonard played The King magnificently, keeping him in check in transition and goading him into jump shots he wasn't hitting. But if you ask Green, James shot himself in the foot more than anything.
"It's not just us stopping LeBron," Green said afterward. "He's stopping himself."
DANNY GREEN: "It's not just us stopping LeBron. He's stopping himself."

— Joseph Goodman (@JoeGoodmanJr) June 12, 2013
Green's pointed sentiments weren't his way of taking a swipe at James. If anything, it shows humility.
Danny trying to say it's LeBron stopping himself to not brag about it, media senses opening to say Green is criticizing him.

— Hardwood Paroxysm (@HPbasketball) June 12, 2013
The Spurs aren't ones to brag about their accomplishments, Green included. They're not going to come out of the locker room and say they owned James or that he can no longer score on them. They're going to give him credit and go about their business.
Bear in mind Green's statement is also a sign of respect. Fresh off a 27-point performance himself, Green has no delusions about how good James is. In Game 1, he posted a triple-double and people were left wanting him to do more. Even when he's off, he's usually on.
But he wasn't on in Game 3. Not even close.
"I can't have a performance like that and expect to win the game," James admitted after Game 3, according to
Adrian Wojnarowski of Yahoo! Sports. "I've got to do more, it's that's simple. I've got to do more."
Indeed he does.
You see it's more about James doing, well, more than it is about the Spurs stymying him to the point of irrelevance. He himself needs to attack more. Taking just two shots in the first quarter when he played all 12 minutes is unacceptable. When Chris Bosh and Dwyane Wade are playing the way they are, he needs to take over.
Credit the Spurs with doing a nice job leading James into help defense, but they're not "forcing" him to do anything in the conventional sense.
Danny Green is right. Spurs not doing anything magical on LeBron. He's being forced into help defenders or settling for Js, not attacking.

— Michael Wallace (@WallaceNBA_ESPN) June 12, 2013
Most of James Game 3 struggles came down to a lack of aggression. He missed his first five shots of the third quarter, only one of which came inside the paint. That's not his game. He's developed a nice jumper, but he's still a habitual rim rocker first and foremost. If he's not going to buckle down and assault the basket, he's not going to score as much or as efficiently as he did during the regular season.
In truth, that doesn't take away anything from the Spurs. Again they, specifically Leonard, have done some phenomenal work. But James isn't somebody teams just stop. He's closer to someone who can reach the rim on command. And that's only a slight exaggeration.
To end the third quarter, James tallied nine straight points in the final two-and-a-half minutes on 4-of-4 shooting. Going off at will is what he does. It's what the Heat need him to do for the rest of the series.
It's also what the Spurs understand is a possibility, no matter how well they defend him.
Dan Favale is a firm believer in the three-pointer as well as the notion that defense doesn't always win championships. His musings can be found at Bleacherreport.com in addition to TheHoopDoctors.com. Follow @danfavale on Twitter for his latest posts and all things NBA.