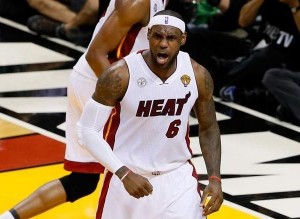 NBA championships are addicting.
The first one is like a gateway drug, you want more. And after that second, you're hooked. So color LeBron James hooked.
After winning his second straight championship with the Miami Heat, The Chosen One has no plans to stop winning now and instead hopes to get better.
"I'm going to come back a better player," James said according to the Associated Press (via ESPN.com) "because I owe it to my teammates. … I'm obsessed with success."
Let's look past what most would consider a healthy obsession for a minute and zero in on what prefaces his championship infatuation.
The concept of a better LeBron is downright scary. Like it's not even fair. He's already on a whole other level compared to his peers and I wouldn't hesitate to call him unstoppable. How are opposing teams supposed to compete with a player that's already unstoppable and on the verge of getting better? They can't, nor will they.
Worse yet (for his competition), imagining LeBron coming back next season even better than he was for this one is a plausible vision. We can't rule anything out after watching him shoot a career-best 56.5 percent from the floor and knocking down a career-high 40.6 percent of his attempts from deep.
His efficiency was supposed to make him human. LeBron was never erratic, but he was never Michael Jordan-like economical. Jump shots were his Achilles heel, not his bed and breakfast. Then all of a sudden they were. That's beyond scary for anyone who doesn't plan to sign with the Heat or already play for them.
What is it exactly that LeBron could improve on? Free-throw shooting comes to mind. He shot just 75.3 percent from the charity stripe this past season and has never eclipsed 80 percent for his career. Perhaps he'll come back for the 2013-14 campaign ready to convert on 90-plus percent of his foul-line attempts. Or maybe he'll decide to knock down 50 percent of his treys or 60-plus percent of his field-goal attempts overall. With LeBron, you never know. All you really know is that anything is possible.
And we'd expect nothing less from a superstar who is obsessed with success.
Now that he has two championship rings to put on his fingers, he bleeds titles. He's also a mere on championship away from rendering the Heat a dynasty, just like he essentially promised roughly three years ago.
Three-peats aren't simple obviously, and the Heat do have a number of questions that need to be answered, such as the health of one Dwyane Wade and the Game 7 incompetency of Chris Bosh. Still, so long as LeBron calls South Beach home and is attracted to those shiny rings and Larry O'Brien Trophy, you know the Heat are going to contend. LeBron wants to get his championship fix, so there's no reason to expect the Heat to implode the way so many have always hoped they would.
You also have to believe they might even win. Again. For the third straight time. Behind the exploits of a somehow better LeBron.
Dan Favale is a firm believer in the three-pointer as well as the notion that defense doesn't always win championships. His musings can be found at Bleacherreport.com in addition to TheHoopDoctors.com. Follow @danfavale on Twitter for his latest posts and all things NBA.