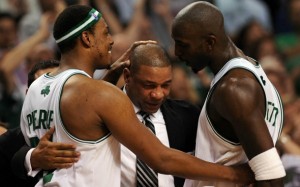 Paul Pierce won't necessarily be following Kevin Garnett and Doc Rivers to Los Angeles.
Talks between the Los Angeles Clippers and Boston Celtics about a deal that would land Garnett and Rivers in Hollywood and DeAndre Jordan, among others in Beantown are ongoing, but you get the sense that a resolution will be reached soon.
If indeed this compelling scenario plays out the way the Clippers hope it will, they'll acquire Garnett and Rivers, and Pierce as well, once the Celtics buy his $15.3 million contract out for $5 million. According to Marc Stein of ESPN.com, the league expectation is that he'll wind up there one way or the other.
To be clear: Paul Pierce is NOT part of this trade. But leaguewide expectation is he will end up with Clips in July if Clips get Doc and KG

— Marc Stein (@ESPNSteinLine) June 17, 2013
Only it might not play out like that. Even if the Celtics send Doc and Garnett to Los Angeles, don't expect them to allow the Clippers easy access to Pierce.
Pulling the trigger on some version of the proposed deal with the Clippers signifies the Celtics are prepared to enter a full-fledged rebuild. Housing a player on the wrong side of 35—even if he is a future Hall of Famer—isn't conducive with a reconstructive blueprint, especially at $15-plus million next season.
Naturally, the Celtics would be inclined to buy out his contract then, right?
Perhaps, but not necessarily.
For one, Boston is tied to Pierce in ways it isn't connected to Garnett and Rivers. Neither of them have spent the better part of two decades building a legacy with the Celtics. They don't mean as much to the franchise as The Truth does. With Pierce, sentimental value is going to come into play.
Retaining Pierce admittedly doesn't seem like the smart financial decision. Not when the Celtics could part ways with him and save $10 million plus whatever taxes they would have paid. But they doesn't mean they won't keep him. With him and Rajon Rondo together, you have to believe the Celtics are a playoff team in the East next season, even without Garnett. That may come into play as well.
Additionally, should the Celtics opt to part ways with the All-Star forward, they have the option of trading him elsewhere, one they are bound to pursue.
Pierce costs a pretty penny but he did average 18.6 points, 6.3 rebounds and 4.8 assists per game this past season, all while shouldering a majority of the playmaking responsibilities once Rondo was lost for the season. He still has plenty of trade value as an impact player and expiring contract.
I myself am surprised teams haven't been more aggressive in attempting to acquire him via trade. The potential to buy him out aside, he could step in and start as a small forward, stretch forward or point forward, depending on what the team in question needs. His versatility is a valuable commodity, one that would help put a borderline contender over the top.
Like the Clippers.
They would love to have Pierce in conjunction with Rivers and Garnett. That's obvious. Getting the previous two doesn't mean their locks to land Pierce, though. Not even close.
Equally as likely is the Celtics keeping Pierce or trading him to a team that wants to keep him. Should all that fall through, then the Celtics will consider buying him out, leaving Pierce free to join forces with Garnett and Rivers. And then the Clippers will have pulled off what they deem the ultimate coup.
Just count on such a vision coming to fruition yet. There's still much more Pierce related drama to come.
Dan Favale is firm believer in the three-pointer as well as the notion that defense doesn't always win championships. His musings can be found at Bleacherreport.com in addition to TheHoopDoctors.com. Follow @danfavale on Twitter for his latest posts and all things NBA.