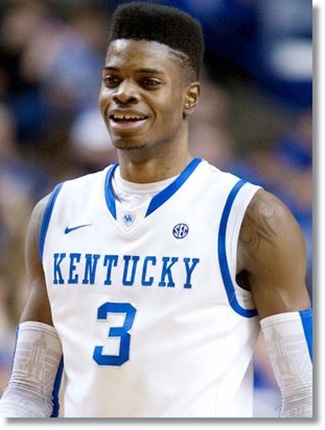 For the 2nd time in 3 seasons, the Cleveland Cavaliers have secured the #1 overall pick in the upcoming 2013 NBA Draft.  Putting all of the conspiracy theories aside, that's a pretty quick shot in the arm when it comes to not only recovering but rebuilding after Lebron James left Cleveland for South Beach a full 3 seasons ago.
Many fans and experts initially balked when the Cavaliers selected Duke's Kyrie Irving, who suffered through injuries and played in only 11 games on the collegiate level, with the top selection in 2011.  But they quickly changed their tune after seeing just how talented and NBA ready the former Blue Devil point guard was in winning the 2012 NBA Rookie of the Year.
Then last season, Cleveland once again secured another Lottery pick and selected Syracuse's 6th man Dion Waiters as an additional building block besides Irving in the backcourt.  Waiters definitely had his detractors as he struggled early in the season but finished strong to rank statistically among the top rookies from the '12-'13 season.
With promising young players in tow like Irving, Waiters, and former Texas big man Tristan Thompson, it has been widely speculated that the Cavs would focus on selecting the best big man available in Thursday's NBA Draft.
For the majority of the last few months, injured Kentucky shot-blocker Nelens Noel had been considered the top prospect on the board, according to THD's latest 2013 NBA Mock Draft 3.0.  In limited action during the regular season, the dominating, defensive oriented 7 footer showed he has the athletic ability to change the game like very few players before him, especially when it comes to defending the painted area.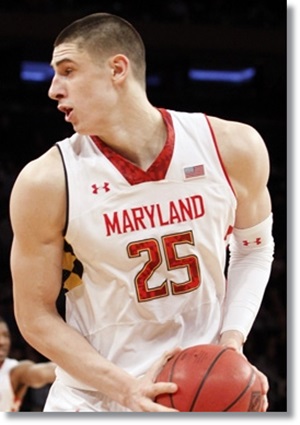 But similarly to fellow formerly highly touted collegiate freshman Shabazz Muhammed, Noel's stock has slid as of late amid concerns that he wasn't able to work out for any teams because he is rehabbing from a torn ACL suffered midway through last season.
It was reported that Noel injured the same knee in high school, and considering the recent history of oft injured big men in the Draft Lottery(see Greg Oden), it would be completely rational if the Cavs were to explore all of their options prior to Thursday night's selection.
Enter Maryland's 7 foot, multi-talented big man Alex Len, who made some tremendous strides in his two seasons playing for the Terps.  Len is much more talented offensively than Noel, and nearly 50 lbs heavier, considering his listed weight of 255 lbs.
In one lone, head-to-head matchup early in the '12-'13 college season, Len dominated Noel to the tune of 23 points, 12 boards, and 4 blocks,  while Noel tallied just 4 points, 9 rebounds, and 3 blocks.
To be fair, Len only scored 20 points against one other opponent the remainder of the season and had mediocre stats of 11.9 ppg, 7.8 rebounds, and 2.1 blocks per game as a sophomore, while Noel would go on to set the Kentucky record for blocked shots in a game with 12 and was leading the nation in blocked shots(4.4) before suffering a season ending ACL injury in February.
While Noel is projected to be out until at least December, Len should be fully recovered from ankle surgery in time for NBA Training Camp in late September or October.
Would Nerlens Noel or Alex Len be a better fit alongside Top 5 NBA point guard Kyrie Irving?
Nerlens Noel 2013 Kentucky Highlights:
Alex Len Maryland Highlights:
Allen Moll has been a lifelong NBA and NCAA College Basketball fan who watches and studies games religiously, and coaches youth basketball in his native Lehigh Valley region of Pennsylvania. Allen has also provided content to Bleacherreport.com, Upperdeckblog.com, Cleveland.com, CSN Philly.com, Buckets Magazine, in addition to being a tenured NBA and NCAA columnist for TheHoopDoctors.com.