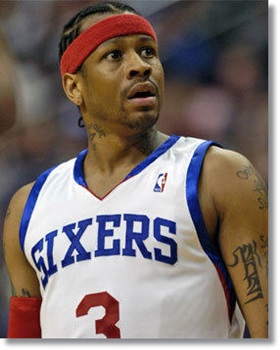 Former NBA MVP and 4 Time Scoring Champion Allen Iverson has been having a rough go of things recently, essentially ever since he last played in the NBA with Philadelphia back in 2010.
It has been well documented about his alleged problems with alcoholism, debt, and a failed marriage with his wife Tawanna.
Even though Reebok has recently re-released his famous Answer line of basketball shoes and apparel and he has been playing overseas in various Legends Games and as a special guest of the Ball-Up Streetball crew, Iverson continues to struggle with getting his personal life back on track.
Despite recent press that shed some rare positive light on Iverson and his post playing career struggles, A.I. was again in the news for the wrong reasons when just last week he was accused of kidnapping his 5 children and was hiding them in a Georgia hotel.
Allen later claimed it was a big misunderstanding as the kids were on an extended visit for Fathers Day and that the mother had full access to the children, but didn't want to make the 45 minute drive to pick them up.
Iverson personally returned the children to Tawanna during a scheduled court appearance last Friday to answer for not paying more than $40,000 in back child support.
But during the proceedings, and despite acknowledging that he recently received a check for nearly $500,000 from royalties from Rebook, Allen refused to pay the now escalated $71,000 in owed back support, insisting that he and his wife had agreed on a reconciliation.
Per court documents:
"Fulton County Superior court judge Bensonneta Tipton-Lane (the same judge who presided over Usher Raymond's custody case) held former NBA star Allen Iverson in Contempt of Court for violating an earlier custody and support order in which he was supposed to fork over $40,000 to his ex-wife Tawanna Iverson as well as enroll in a substance abuse class as a condition of his visitation with his children.

On cross-examination by attorney John Mayoue who represents Tawanna Iverson, Iverson admitted that he told her that he had no intention of paying her child support despite the fact that he had just received $462,460.24 and thus had the ability to pay.

With those words from his mouth, Judge Lane held him in Contempt of Court and ordered him to pay a total $71,000.00 within 72 hours otherwise she directed the Fulton County Sheriff's Office to place him under arrest and keep him in jail until the payment is made."
Judge Lane also stated in her written order the following:
"The father, rather unapologetically, testified that he had consumed alcohol "maybe twenty" times recently, including during his parenting time; that he had not taken any therapy sessions; that he had not attended any AA meetings; and that he did not plan on attending any."
Judge Lane gave the former NBA star 72 hours to provide proof that he has registered with a licensed agency that has the ability to screen for drug and alcohol usage, otherwise she ordered the Fulton County Sheriff to place him under arrest and hold him in jail for five days.
News first leaked out about Iverson's court order on Friday, meaning he has until the close of business on Monday to make payment or face incarceration.  Say it isn't so Allen…
Allen Moll has been a lifelong NBA and NCAA College Basketball fan who watches and studies games religiously, and coaches youth basketball in his native Lehigh Valley region of Pennsylvania. Allen has also provided content to Bleacherreport.com, Upperdeckblog.com, Cleveland.com, CSN Philly.com, Buckets Magazine, in addition to being a tenured NBA and NCAA columnist for TheHoopDoctors.com.