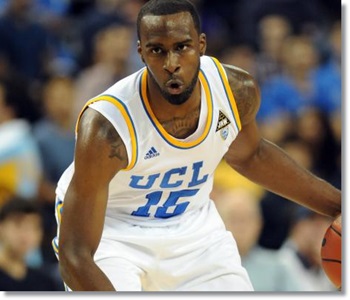 What a difference one year makes, when last year about this time seemingly everyone, including all of us here at THD, were salivating over HS phenom Shabazz Muhammed.
He was the nation's top ranked high school player, by far the most prolific amateur scorer, and was projected by virtually every source as the unanimous #1 pick in 2013 NBA Draft, all prior to playing one minute of college basketball.
After continually showing out and dunking over the competition in every HS game shown on ESPN, some experts even proclaimed that Muhammed could be the second coming of future NBA Hall of Famer Kobe Bryant.
He spurned several other high major programs like Kentucky and Duke to remain closer to home out West, committing to the fabled UCLA Bruins to be part of coach Ben Howland's #1 ranked recruiting class prior to last season.
He accomplished every major HS basketball award last season including National POY, McDonald's All American Game and Jordan Brand Classic MVP, as well as winning the 2012 Powerade Jamfest Dunk Contest, as HS's best dunker.
But NCAA fans would have to wait to witness the prolific scorer as Muhammed was initially ruled ineligible, then was forced to sit out UCLA's first 3 contests after accepting "illegal benefits" as an amateur player.
During the early going of the season, Muhammed appeared out of shape and struggled before finishing the season at a respectful 17.9 ppg and 5.2 rebounds and leading the Bruins back to the NCAA Tournament.
While most picked apart his game, constantly criticizing his averaging less than 1 assist per game, the real shocking news was that Shabazz was actually already 20, a year older than initially revealed, announcing that his father lied about his age to make him a more appealing prospect, raising character issues.
Fast forwarding to the 2013 NBA Draft Combine, and Muhammed's stock again appears to be on the slide as quite a few NBA GM's have gone on the record stating that the once prized HS prospect may not even be selected in this year's Lottery and is more likely a mid 1st Round selection over concerns about attitude and lack of passing skills.
Most are concerned about a perceived selfish attitude and demeanor but he fact remains that even in a down crop of NBA prospects, Muhammed remains one of the few players, along with Kentucky's Nerlens Noel and Kansas' Ben McLemore with star potential in this year's Draft.
In reality, Shabazz is still a rather young 20 years old, and can fill up the basket at arguably the best rate of any player coming out of college this season.  While his expectations have undoubtedly been lowered, I still think a comparison to Houston's James Harden may be a good one, as a rare left-handed prolific scorer.
He measured out a legit 6'6 in shoes with a 6'11 reach at the 2013 Draft Combine but had a surprising 10% body fat, one of the worst in attendance.
Where will Shabazz Muhammed get drafted and what are his pro prospects?
Shabazz Muhammed UCLA Highlights:
Shabazz Muhammed 2013 Draft Scouting Report:
Allen Moll has been a lifelong NBA and NCAA College Basketball fan who watches and studies games religiously, and coaches youth basketball in his native Lehigh Valley region of Pennsylvania. Allen has also provided content to Bleacherreport.com, Upperdeckblog.com, Cleveland.com, CSN Philly.com, Buckets Magazine, in addition to being a tenured NBA and NCAA columnist for TheHoopDoctors.com.