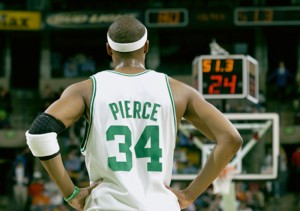 Paul Pierce may have played his last game with the Boston Celtics.
Sources have told Bob Finnan of The News-Herald in Cleveland that Celtics general manager Danny Ainge intends to buy out his star forward before the season begins:
Sources indicate Celtics director of basketball operations Danny Ainge will likely buy out forward Paul Pierce's $15 million contract for next year ($5 million is guaranteed). If that happens, Grant should be first in line to try to acquire Pierce's services. However, before anyone gets too giddy, Pierce will likely want to go to a serious contender.
Pierce's future with the Celtics has been up in the air for the past few years now, so a buyout—while surprising—wouldn't be completely out of the question. It does, however, seem odd that this news comes out of Cleveland and, you know, not Boston.
With Doc Rivers expected to come back and Ainge already having indicated that Pierce and Garnett will as well, this one has to be taken with a grain a salt. Parting ways with Pierce was always supposed to be a part of a bigger vision, and given the history that exists between him on the franchise, the Celtics aren't going to approach this situation in a Cavalier fashion.
So much will go into parting ways with Pierce and we've got to believe it will be more than just about finances. If Boston is to buy out its leading scorer, there's no way it will be the only change. Cost-cutting trades will be struck and, most importantly, Garnett isn't likely to be back. True story.
Although Garnett is a fierce competitor, there's no way he's prepared to stick around for another rebuild. He battled injuries to end last season and his future is up in the air as it is. How do you think he's going to react to a good friend like Pierce being shown the door?
Garnett more than anyone understands the NBA is a business, but he also understands he's now 37. Enduring a restoration project isn't in the cards for him. He's too damn old.
Should Boston then decide that Pierce has played his last game as a Celtic, expect Garnett to follow suit. Whether he would retire or simply opt to waive his no-trade clause to play for a contender is unclear, but he won't be suiting up for Boston without Pierce. That just wouldn't make sense, regardless of how loyal he is.
Of course, this isn't to say that Pierce is going anywhere. This is purely conjecture. The rumor itself is difficult to believe because of the source. One would assume that breaking news like this would come out of Boston, not Cleveland.
We've do have to acknowledge, however, that Pierce's departure is a possibility. Previous reports say that Pierce himself doesn't expect to be in Boston next season. Him leaving isn't entirely implausible. It may not necessary be likely, but it is a feasible scenario.
Will he be bought out? Traded? Will he simply stay put? That all remains to be seen. But we will see. As the offseason progresses, clarity will begin to be shed on Boston's now murky future—whether it include Pierce or not.
Dan Favale is a firm believer in the three-pointer as well as the notion that defense doesn't always win championships. His musings can be found at Bleacherreport.com in addition to TheHoopDoctors.com. Follow @danfavale on Twitter for his latest posts and all things NBA.