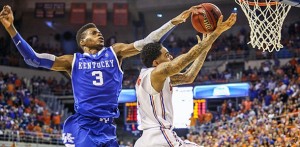 Now that the 2013 NBA Draft Lottery is over and Cleveland has secured the top overall pick for the 2nd time in 3 seasons, followed by the Orlando Magic at #2, and the Washington Wizards at #3, it's time to once again unveil THD's newest Mock Draft.  Check out our Mock Draft Database for a peak at some other Mocks from around the web.
With he official draft order now set, we can take into account team needs in making our selections.  While there may not be a stand-out star at or near the top of this year's draft, it is deep as far as talent throughout the 1st Round.  Top prospects for the #1 selection include Kentucky's Nerlens Noel, Kansas' Ben McLemore, Georgetown's Otto Porter Jr, and Michigan's Trey Burke.
As such, these Mock Draft rankings are based on potential with this year's Draft order based on Draft Lottery results and any outstanding trades.  These are only my choices and not the consensus picks of all of The Hoop Doctors writers, with that said here is my 2013 Mock Draft:Version 3.0.
Draft Order
College Team
Player
Position
Physical

1.

Cle


Kentucky
Nerlens Noel

C
6'11 206lbs Freshman

While rumors persist that Cleveland may be interested in trading the top overall pick, Noel remains the most talented prospect with the most potential in this year's Draft.  Any team selecting the super athletic shot-blocker will have to wait until at least Christmas as he is rehabbing a torn ACL.  If Cleveland takes Noel at 1, they may not see results until year 2 or 3 as his slender frame remains a concern as a starting center but can be a game-changer on defense from the onset.  Comparison: Marcus Camby

2.

Orl


Kansas
Ben McLemore

SG
6'5 190lbs Freshman
As this year's most technically sound perimeter shooter, McLemore could go as high as 1, as he and Noel are the perceived best prospects available at the top.  Although erratic as a redshirt freshman last season, McLemore could be one of the lone future stars in this year's draft, and fits well into the Magic's future rebuilding plan.Comparison: Ray Allen

3.

Was


Georgetown
Otto Porter Jr

SF
6'9 195lbs Sophomore

The reigning Big East Player of the Year wouldn't have to travel far from Georgetown to play for the Wizards as he would provide another building block alongside John Wall and Brad Beal going forward.  Porter is perhaps the most complete player in this draft, capable of helping immediately as an elite scorer and lock-down defender.  It wouldn't be a shock if Cleveland reaches for Porter as their SF of the future.Comparison: Andre Iguodala

4.

Cha


UNLV

Anthony Bennett

PF
6'7 240lbs Freshman

The next trending and talented prospect hailing from Canada, Bennett is a high risk-high reward type player that can score from anywhere on the floor.  He was arguably the nation's top freshman this year for the Rebels, as both a low post presence and perimeter scorer.  Although a bit short for PF, Bennett already has an NBA physique, and would give Charlotte a much needed scorer.Comparison: Larry Johnson

5.

Pho


 Indiana
Victor Oladipo

SG
6'4 215lbs Sophomore

Arguably the most improved player in college basketball last season, Oladipo is mostly known as a defensive stopper but possesses supreme athleticism, and a much improved offensive game.  He finishes through contact as well as any player in the nation and could be a diamond in the rough as a rare two-way potential All Star.  Oladipo fits nicely alongside Goran Dragic in the backcourt.Comparison: Tony Allen

6.

NO


Maryland
Alex Len

C
7'1 255lbs Sophomore

Despite nursing a stress fracture injury, most GM's are very high on the legit 7 footer, with offensive skill and impressive mobility.  Len runs the floor like a gazelle, plays well at the rim, and has outstanding touch to 15 feet.  He improved tremendously from freshman to sophomore seasons and would be a perfect compliment to last year's top pick Anthony Davis at center.Comparison: Jonas Valanciunas

7.

Sac


Michigan
Trey Burke

PG
6'1 185lbs Sophomore
This season's NCAA Player of the Year may not overwhelm you with his size but more than makes up for it with heart, skill, intelligence, and unwavering desire to be the best.  Burke was phenomenal all season, helping the Wolverines win a Tourney game for the first time in decades.  Although Isaiah Thomas shined last season at PG as a 2nd Round surprise, Burke has a better pedigree as a more complete player with a higher ceiling.Comparison: Kemba Walker

8.

Det


Syracuse

Michael Carter-Williams

PG
6'5 175lbs Freshman

Possessing extreme size and length for the point guard position, Carter-Williams was both fantastic and an enigma at Syracuse.  Surely coach Boeheim lost a bit more hair amid some ill-advised turnovers and at times bad shot selection but he also has gone on record stating that Michael was one of the best players he ever had at Syracuse.  In Detroit, the Brandon Knight experiment at PG hasn't played out as expected.  Drafting Carter-Williams would allow Knight to slide to SG, to highlight his elite perimeter shooting.  His combination of size at the position, defensive abilities, and elite potential far outweigh the downside.Comparison: Penny Hardaway

9.

Min


Lehigh
CJ McCollum

PG/SG
6'3 195lbs Senior

Despite missing the latter part of his senior season with a broken leg, McCollum looks to benefit from the recent success from fellow small school performers in recent years like Norris Cole and 2013 ROY Damian Lillard.  He's a 3 time Patriot League POY, that plays up in big games(beating Duke in 2012 NCAA Tourney), shoots better than 50% on threes, and was leading the nation in scoring at the time of his injury.  Minnesota has been looking for their next SG since Brandon Roy got injured, making McCollum a hot commodity in the Lottery.Comparison: Stephen Curry

10.

Por


Georgia
Kantavious Caldwell-Pope

SG
6'5 205lbs Sophomore

While not a household name because of Georgia's recent struggles in the SEC, KCP is an elite scorer and 3 point shooter with advanced athleticism that makes him one of the nation's best finishers at the rim.  The former highly touted HS prospect improved as much as any from freshman to sophomore seasons and is viewed as not yet a finished project.  His prototypical size for SG would mesh well with Lillard at the point and Nicolas Batum at SF.Comparison: Michael Redd

11.

Phi


UCLA
Shabazz Muhammed

SG
6'6 225lbs Freshman

Even though his stock has taken a recent hit over lying about his age and attitude concerns, Muhammed remains one of the best pure scorers in this draft.  He's proven to be almost exclusively left-handed and is a below average passer, but could give you 20 points on any given night.  Former #2 overall pick Evan Turner hasn't lived up to the hype and All Star PG Jrue Holiday needs some help in the Philly backcourt.Comparison: James Harden

12.

OKC


Indiana
Cody Zeller

C
7'0 230lbs Sophomore

After being exposed in the NCAA Tournament, Zeller's stock took a hit as a soft player.  He's again on the rise after exploding off the charts at the Draft Combine and would be a perfect fit as a big that can run the floor alongside Durant and Westbrook.  He's the most fundamental big man in this year's draft, and may prove to make Kendrick Perkins days in OKC numbered.Comparison: LaMarcus Aldridge

13.

Dal


Michigan
Tim Hardaway Jr

SG
6'6 190lbs Junior

While the Lottery may be a reach for the Michigan junior, he's undeniably an elite scorer and 3 point threat, something the Mavs desperately need as Dirk Nowitzki gets older.  Hardaway Jr has NBA genes, prototypical size for SG, and finishes well at the rim.  Some concerns remain about a slender frame and lack of defensive prowess but the Mavericks will look to improve on the cheap as they make another push for free-agents-to-be Dwight Howard and Chris Paul.Comparison: Kevin Martin

14.

Utah


Germany
Dennis Schroeder

PG
6'2 170lbs International

The lightning quick floor general burst onto the scene, starring at this year's Nike Hoops Summit alongside Andrew Wiggins, and has steadily risen on most Mock Drafts.  He has video game-like handles, a capable offensive game, and has gotten better by leaps and bounds in recent months.  Although he has decent height, his slender 170lb frame is cause for concern.Comparison: Darren Collison

15.

Mil


France

Rudy Gobert

C
7'1 230lbs International

Possessing an unreal 7'9 wingspan, the fabulous Frenchman has been on the NBA's radar for a few seasons but needed some seasoning overseas.  He had an average year statistically in Europe but shined against similar prospects at the Draft Combine.  Gobert would give the Bucks the lost inside presence when Andrew Bogut was traded to Golden State.Comparison: Rick Smits

16.

Bos


Croatia
Dario Saric

SF
6'10 235lbs International

After dominating any and all competition in the European U-18 Championships this Summer, Saric is an intriguing International prospect. Although he has the size and low post moves to play in the paint, he possesses above average ball-handling and passing skills that translate to all 5 positions on the floor. Turning only 19 during the 2013 calendar year, many will view Saric as the "next" Dirk Nowitzki because of his advanced offensive skill at such a young age.Comparison: Toni Kukoc

17.

Atl


Louisville
Gorgui Dieng

C
7'0 245lbs Junior

One of the nation's best shot-blockers, the already 23 year old Dieng proved his worth on a national stage, helping Louisville capture the 2013 National Title.  He has legitimate NBA size, with a humongous 7'3 wingspan, and a better than advertised low post game.  Adding Dieng would allow All Star big man Al Horford to move to his more natural PF position.  Comparison: Roy Hibbert

18.

Atl


Georgia Tech

Glen Rice Jr

SG
6'6 210lbs D-League

The son of former NBA great Glen Rice, Jr has taken the hard road to the big leagues, after being kicked off the Georgia Tech team, and toiling in the D-League.  After an outstanding showing at the Combine, Rice Jr is skyrocketing up draft boards, possessing prototypical size and abilities for the SG position.  If teams can look past his collegiate red flags, Rice could be a sleeper value pick providing elite perimeter scoring like his father once did.  Comparison: Glen Rice Sr.

19.

Cle


Russia
Sergey Karasev

SF
6'7 195lbs International

Still only 19 years of age, Karasev had a breakout season in Russia and projects as an elite shooting SF with tremendous potential.  Some see him as a smaller version of Dallas' Dirk Nowitzki, but that's probably a stretch.  Cleveland can definitely use another shooter as part of their young core, but Karasev may remain in Europe another season to work on his frame.  Comparison: Marco Bellinelli

20.

Chi


San Diego St

Jamal Franklin

SG
6'5 195lbs Junior
One of the nation's most athletic players, Franklin is a do-it-all  wing that really doesn't have a natural position but will be a legitimate insurance policy if the Bulls decide to deal Luol Deng.  At this point, he's more of a slasher than shooter but brings energy and enthusiasm, especially on defense.  Some character issues over flipping off some fans may hurt his stock.  Comparison: Michael Kidd-Gilchrist

21.

Uta


Duke

Mason Plumlee

C
7'0 235lbs Senior

A NCAA Player of the Year finalist, Plumlee finally showed some of the projected talent once heaped upon him as a freshman.  He has legitimate 7 foot frame, back-to-the-basket low post game, to go with some impressive athleticism for a player his size.  Plumlee was a double-double machine as a senior and played at a top tier program under an elite coaching staff.  With uncertainty surrounding Paul Milsap and Al Jefferson in free agency, Plumlee is a no brainer late in the 1st Round.  Comparison: Meyers Leonard

22.

BK


Greece
Giannis Adetokoubo

SF
6'9 215lbs International

This year's International man of mystery, Adetokoubo played well overseas against subpar competition but is intriguing to a number of NBA teams in need of a super athletic small forward.  He has outstanding size and abilities as a still only 19 year old prospect but could remain in Greece for another season if selected.  Some insist he has a "promise" to go alot higher, but we'll see on June 27th. Comparison: Nicolas Batum

23.

Ind


 North Texas
Tony Mitchell

C
6'9 230lbs Sophomore
Once considered a Lottery selection after his freshman season, Mitchell stock has slipped after a subpar 2nd season at North Texas.  He has all of the size and skill to be an outstanding PF at the next level but hasn't quite put everything together yet.  His athletic abilities intrigue NBA GM's and likely will be a late 1st Round selection in a down year for star players.  He's an outstanding candidate to succeed David West once his contract is up.Comparison: Derrick Favors

24.

NY


Ohio State

DeShaun Thomas

SF/PF
6'7 220lbs Junior
Despite being a tad undersized and having only average athleticism, Thomas has been an elite scorer at both the HS and collegiate levels.  He won't blow anyone over with his combine numbers but simply knows how to score like few others in this year's draft.  It remains to be seen if his "stretch 4" type game can translate to the next level.  Carmelo Anthony and the Knicks need help scoring the basketball, making Thomas a prime prospect off the bench.Comparison: Luol Deng

25.

LAC


California

Allen Crabbe

SG
6'6 195lbs Junior
Not many on the East coast know about one of the Pac-12's leading scorers and POY because of late start times.  But Crabbe is a prolific shooter with great size for the SG position.  He did have a well publicized run-in with his coach at Cal but has the outstanding athleticism to be a potential star at the next level.  With Jamal Crawford, Chauncey Billups, and Caron Butler getting older, Crabbe is nice value pick that fits a need going forward with the Clippers.Comparison: Danny Granger

26.

Min


Gonzaga


Kelly Olynyk

C
  7'0 235lbs Junior

After biding his time on the bench for 2 seasons, the big-boddied legit 7 footer had a breakout junior season for the Zags.  Behind his timely scoring and capable rebounding, Olynyk helped Gonzaga finish the regular season as the nation's top ranked team.  He lacks great athleticism and quickness but defends the pick-and-roll to perfection and stretches the "D" with his perimeter shooting abilities.Comparison: Spencer Hawes

27.

Den


UNC

Reggie Bullock

SF
6'7 200lbs Junior

Many were surprised that the sweet shooting forward decided to declare after his junior season, since he could have been a focal point of the Tarheels' offense next season.  He's an above 40% 3 point shooter and has gotten better as a rebounder and transition player.  With Andre Iguodala potentially leaving in free agency, Bullock is excellent insurance for the Nuggets.  Comparison: Jason Richardson

28.

SA


Spain

Lucas Nogueira
C
7'0 220lbs International

The 21 year old Brazilian has been an NBA prospect for a few seasons but has lacked the toughness and physicality to be an NBA player.  "Bebe" had an outstanding season in Spain's top league last year, prompting many to go as far as declare him a potential Lottery selection because of his rare combination of size, skill, and elite athletic ability.  The Spurs are known for plucking International gems, making Nogueira a no-brainer of he's still on the board this late.Comparison: Sam Dalembert

29.

OKC


Pittsburgh
Steven Adams

C
7'0 255lbs Freshman

After only one season at Pitt, and 2 seasons removed from playing exclusively in his native New Zealand, Adams has drawn a crowd of NBA executives to nearly every game played for the Panthers.  Scouts are enamored by is humongous hands and frame that could make him a legitimate center prospect in the NBA.  He's still raw, but will ultimately be selected late in the first round on potential.Comparison: Luis Scola

30.

Pho


Kansas
Jeff Withey

C
7'0 230lbs Senior

One of the nation's best shot-blockers, Withey can help a club right away protecting the rim and rebounding, while not being a liability on offense.  He's only average athletically and may already be a finished product, but Phoenix can use a steadying force in the middle as a rim protecting, hard-nosed big.Comparison: Joakim Noah
Allen Moll has been a lifelong NBA and NCAA College Basketball fan who watches and studies games religiously, and coaches youth basketball in his native Lehigh Valley region of Pennsylvania. Allen has also provided content to Bleacherreport.com, Upperdeckblog.com, Cleveland.com, CSN Philly.com, Buckets Magazine, in addition to being a tenured NBA and NCAA columnist for TheHoopDoctors.com.