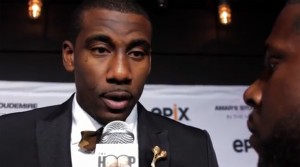 When you watch an athlete play for years, it's easy to forget that they have their own personal lives and they too have had to deal with trials and tribulations as well. Amar'e Stoudemire of the New York Knicks is no stranger to this, and he has decided to share his story.
Amar'e has teamed up with EPIX to create an original documentary entitled "In the Moment", which airs tonight, April 19 at 8pm ET on EPIX. Last night in New York, EPIX had a screening of the documentary and invited The Hoop Doctors for the star-studded event.
Media was asked to arrive at Marquee on 10th Avenue prior to Stoudemire getting there. About 20 minutes after my arrival, a pearl white Mercedes-Benz Maybach pulled up and everyone cleared at path from the car to the entrance. It was Amar'e.  Because it was slightly raining off-and-on, the driver went around with his umbrella to open the car door and to escort Amar'e and his pregnant wife inside, shielding them from the rain.
He went inside for a bit and not too long afterwards, Amar'e made his appearance on the red carpet to snap some photos and to speak with the media that had assembled for his documentary's screening. The Hoop Doctors had the chance to chat with Amar'e about the documentary, and of course, his health and the Knicks.
However, invited to the event was also the likes of Stephen A. Smith, Patrick Ewing, Tyson Chandler, Carmelo Anthony, Iman Shumpert, Chris Copeland and Herb Williams, who arrived in spurts and were met by slight cheers by the crowd assembled. Melo, Herb and Copeland were scarce on the red carpet, but I did get the chance to chat with the others. As this was an event for Amar'e Stoudemire, we were in New York, and many Knicks were represented, naturally the conversation in the video below is Knicks-centric.
Once the red carpet/media area cleared out, people made their way inside as the screening was about to begin. It was packed. Standing room only. But it was well worth it.
The documentary went into detail into Amar'e's turbulent childhood and the ups and downs of his NBA career. It is simply a must watch tonight on EPIX at 8pm ET.
The screening was followed up by a light-hearted Q&A session between Stephen A. Smith and Amar'e. Smith dug a bit deeper in what compelled Amar'e to share his story.
And what a story it was…definitely worth checking out the film folks.
Kevin Burke of The Kevin Burke Project brings provocative, thought provoking content about basketball as only he can. Kevin also hosts The Hoop Doctors weekly podcast show, which you can subscribe to for free on iTunes. Follow Kevin on Twitter and Facebook