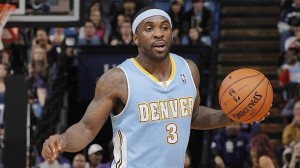 For the majority of the NBA season the teams in the Western Conference that garnered the majority of the talk were the Lakers, Clippers, Thunder, Spurs and Grizzlies of the world. Many believed that one of those teams that represent the West in the NBA Finals.
But how about the Nuggets? If you've had the chance to watch Denver at all this year, you will know that they probably have the best transition offense in the league. If you're not a good defensive team in transition, you will get slaughtered by Denver. That's why they will be a very interesting opponent for anyone in the playoffs.
The guy that makes their fast-break offense if Ty Lawson, of course. But Ty has suffered an injury to his plantar fascia. What will this do to Denver's playoff run?
"I have a feeling that he had somewhat of a (partial) tear in his plantar fasciitis and that's untreatable," Karl said. "But popping it creates a situation where now once the soreness goes away, he probably should be able to be pain-free. It could come in a couple weeks.

"His job and our job is to figure out how to get him feeling 100 percent and having some confidence playing the game of basketball. I think it's a situation where it's going to work out. I'm optimistic about how it's going to work out."
H/T: nba.com/nuggets