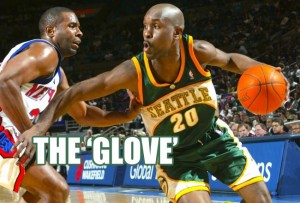 Gary Payton's election to the Basketball Hall of Fame is a fitting final chapter for one of the greatest guards in NBA history. A product of Oakland, California, Payton was maybe the grittiest defender and greatest trash-talking point guard of all-time.
During his 17-year career (1990-2007), Payton, also known as "GP" and "The Glove," averaged: 16.3 ppg, 6.7 apg, and 1.8 spg. A slender but tough 6'4, 180 lbs., Payton was intimidating, fast, smart, and taller than most point guards.
In high school, Gary Payton played with fellow NBA player Greg Foster. Like many young children in Oakland, Payton grew up playing street ball. There, he helped mentor another future NBA Champion, the New York Knicks' Jason Kidd.
For college, Payton went to Oregon State University, where he still holds the record for steals.
After a brilliant college career that included 3 trips to the NCAA Tournament, Payton was selected 2nd by the Seattle SuperSonics in the 1990 NBA Draft.
Although Payton was a known force coming out of college, no one knew quite how amazing he would be. His first two years in the NBA were a struggle offensively. As a rookie, GP delivered 7.2 ppg, 6.4 apg, and 2.0 spg, but that was just the beginning.
Career Highlights:
As Gary Payton grew as a player, so the Sonics grew into a formidable playoff team. In his second season, the Sonics made the playoffs. In only his third season, Payton began to emerge, 12.3 ppg and 1.8 spg, and he led the Sonics to the first of many long playoff runs.
Payton then began his accent to the top of the point guard rankings in the NBA. Even more impressive when you consider he played against John Stockton, Mark Jackson, Jason Kidd, Tim Hardaway, and Kevin Johnson. The dynamic combination of Gary Payton and power forward dunk artist Shawn Kemp made the Sonics into a force to be reckoned with, so powerful they were known as "Sonic Boom." Payton's defense anchored them on "D," and on offense, Payton could finish by himself, distribute to others, to lob the ball up for Kemp to hammer it down with one of his signature "Rain Man" slams.
Payton and Kemp Highlights:
Between 1994 and 2003, Payton averaged at least 19.2 ppg, 7.1 apg, 1.4 spg. In 1996, he led the Sonics to the NBA Finals behind a franchise best 64-win season. Payton posted 19.3 ppg, 7.5 apg, 4.2 rpg, and 2.9 spg during the '95-'96 season. That season Payton won the Defensive Player of the Year Award, the only point guard to ever receive such an honor.
Sonics' Defense on MJ in 1996 Finals:
After Michael Jordan, Scottie Pippen and the Chicago Bulls took a 3-0 lead in the 1996 Finals, Payton and the Sonics punched back and threatened to even the series. Although the Bulls won the series 4-2, Payton played Jordan as tough as any other defender. Offensively, Jordan had his worst finals, and Payton was his primary defender. And, Sonics Head Coach George Karl's mission was to stop MJ in that series, as he told his team during a timeout, "we've still got go's on Michael Jordan."
9x All-Star Gary Payton went on to more great seasons in Seattle before he was traded to the Milwaukee Bucks for Ray Allen. Although the combination of Sam Cassell and Gary Payton was entertaining in Milwaukee, Payton decided to join the Los Angeles Lakers with Hall of Fame power forward Karl Malone. The Kobe Bryant-Shaquille O'Neal-Gary Payton-Karl Malone Lakers made an injured, but valiant run to the 2004 NBA Finals where they were decimated 4-1 by the Detroit Pistons.
Payton averaged 14.6 ppg for the Lakers before being traded to the Boston Celtics. Finally, he made his way down to the Miami Heat to join Dwayne Wade and former teammates Shaquille O'Neal and Antoine Walker.
Although Payton won his only championship in a supporting role (7.7 ppg), he sunk crucial shots in the 2006 NBA Finals in games 3 and 5. The Heat came back from a 0-2 deficit in the series to win the title 4-2 against the Dallas Mavericks behind a heroic effort by Wade. The third time was the charm for GP. After going 0-2 in his first two Finals, Payton finally won one. That Heat championship was a great culmination for the careers of Payton and his teammate Alonzo Mourning, whom also had a brilliant career, but lacked an NBA championship on his resume.
Payton's Career-High in Scoring:
ESPN ranked Gary Payton 10th on their Top 10 NBA Point Guards of All Time list. And, it wouldn't be a stretch to call him one of the best defensive point guards of all-time. He is 8th on the all-time assists list and 4th in steals, between Michael Jordan (3rd) and Scottie Pippen (6th).
Hall of Fame guard and NBA Champion with the Los Angeles Lakers Gail Goodrich called Payton, "probably as complete a guard as there ever was."
Payton made the NBA All-Defensive First Team 9 times (1994-2002), a record he shares with Michael Jordan, Kevin Garnett, and Kobe Bryant.
Gary Payton played 12 ½ years with the Seattle SuperSonics, won 2 Olympic gold medals (1996 and 2000), and won an NBA Championship with the Miami Heat. He still holds franchise records in points, assists, and steals.
Trash-talker. Intimidating defender. Devoted father and husband. All-Star. Sonic. Champion. Gary Payton.