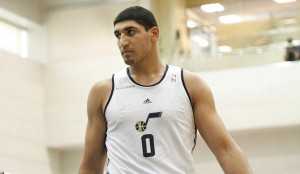 This bodes well for the Lakers playoff hopes and not so much for Utah.
The Jazz may be without their talented young big man, Enes Kanter for the rest of the season. Kanter is out indefinitely with a dislocated shoulder. Those injuries typically require surgery to fully heal, so we'll see.
At this very second, the Lakers have a half-game lead on Utah for that 8th seed. But right behind them are Dallas and Portland.
If the Jazz make the playoffs, they might have to do it without Enes Kanter.

Kanter will be sidelined "indefinitely" because of a dislocated shoulder, team officials announced on Thursday night.

Utah has only 10 games remaining in the regular season, starting Friday night at Portland.

Kanter was injured in the second quarter of the Jazz's 103-88 win over Phoenix on Wednesday night. The Suns' Hamed Haddadi landed on top of Kanter as they scrambled after the ball.

"He dive for the loose ball and I dive, too," Haddadi said. "We both went for the basketball and I don't know what happened after that. But when I saw his shoulder I say, 'Ouch.' "