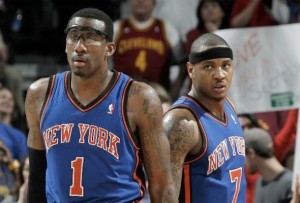 What rift?
So much has been made of the New York Knicks' pairing of Carmelo Anthony and Amar'e Stoudemire. They weren't considered a fitting couple and Stoudemire's injuries have only complicated matters and put their collective vision in jeopardy.
Even as the two began to gel better on the court this season, running pick-and-rolls and leaving space for each other in the post, they rarely talked about one another it seemed.
Speculation of a rift between them has dominated public opinion since before last year's playoff exit. Was STAT upset that Melo stole his spotlight? Did Anthony think the Knicks were better off without Stoudemire? Were these two even friends like we were originally led to believe?
As Melo has had to leave the Knicks without Amar'e the issue has been tabled somewhat. It didn't really matter if the two weren't friends because Stoudemire wasn't on the floor.
Still, seeing how the duo's initial plans didn't pan out, one has to wonder if any animosity exists there.
Per Chris Herring of The Wall Street Journal, there is none:
Given the number of injuries Stoudemire's been through, Anthony, when initially asked about his teammate, turned away from the issue of basketball briefly. "At this point, I'm just more concerned about his psyche and his mental [state]. That's my friend," said Anthony, who was promoting Degree deodorant near Madison Square Garden Thursday. (For his part, Stoudemire insisted that he's fine mentally, and that his spiritual life and family have kept him afloat in recent weeks.)
Melo went on to admit that he was disappointed that the two haven't had the chance to deliver the championship they were supposed to together, but Anthony's concern about Stoudemire as a friend is, well, endearing.
Some may be blind to it, but Stoudemire hasn't exactly be readily available for questioning during his many rehabs. His focus is always on getting back on the court, and whether he speaks publicly or not, we know that.

This is refreshing, though. Anthony's concern about a teammate, about a friend shows that there's support within the locker room. At a time when so many fans and pundits wish Stoudemire was gone or that his contract was never signed, there's still hope within the walls of Madison Square Garden.
Anthony and Stoudemire still want to do what they were brought to New York to do—win a championship.
They want to do it together.
"But we all just want to see him take his time and do the right thing," Anthony said. "Whatever it takes."
There's no telling what the future holds for Stoudemire, for Melo, for the two of them and for these Knicks. What it's going to take to give every party involved hope is a mutual understanding and appreciation between the team's two biggest stars.
And on that front, New York is all set.
Dan Favale is a firm believer in the three-pointer as well as the notion that defense doesn't always win championships. His musings can be found at Bleacherreport.com in addition to TheHoopDoctors.com. Follow @danfavale on Twitter for his latest posts and all things NBA.