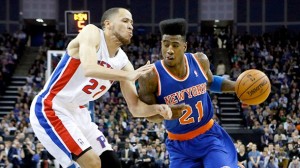 Iman Shumpert's future with the New York Knicks doesn't appear to be etched in stone.
Though star forward Carmelo Anthony and head coach Mike Woodson have stated otherwise, the possibility of the Knicks trading Shumpert has apparently become very real.
According to Chris Sheridan of SheridanHoops.com, the second-year guard is increasingly unhappy with his current role and New York with his performance:
The New York Knicks are still open to the possibility of trading second-year guard Iman Shumpert despite coach Mike Woodson's declaration that the player he still calls "Rook" isn't going anywhere.

"There are major concerns (from people close to Shumpert) over how the Knicks are developing him," a source from another team told SheridanHoops.com, speaking on the condition of anonymity.

"They feel he's being played out of position (at small forward) and his confidence is suffering because of it. They understand the team is having success and it has to be the right deal, but they'd prefer Iman in another situation… And soon."
In some ways, Shumpert's discomfort makes sense. He's working his way back from a knee injury and is limited as it is. Playing out of position only adds to that difficulty.
That said, in an era where almost everyone is playing out of position, especially on his team (see Jason Kidd, Melo, etc.), the notion it could lead to a trade is somewhat preposterous.
Shumpert is only a sophomore, so he still has plenty of developing to do. Part of that includes the acceptance that he has to play out of position when the situation calls for it.
Another part is improving himself as a player. His defense hasn't been as lockdown as it was last season, but I'm prepared to attribute that to the rehabilitation process more than anything. The 33.8 percent shooting from the floor, however, is a serious issue. It's an even bigger one when you consider he's actually hitting on 41.4 percent of his three-point attempts.
The second-year man needs to take higher percentage shots when attacking and must become more comfortable living and dying off jumpers. He plays for a Knicks team that favors smaller lineups in hopes of spreading the floor, and he has to understand/embrace that.
Admittedly, this is a crucial point in Shumpert's career, a time in which he is molded into the player he will likely become for years. Any misstep here will prove more than costly moving forward. Yet is that really on the Knicks?
Again, part of developing is making adjustments to the personnel around you and the position you are asked to play. Coming in, Shumpert was considered a point guard by many, but after a failed experiment last season, it's become painfully obvious he's more of an undersized wing.
This isn't just about the Knicks forcing Shumpert to man the small forward spot; it's about him continuing to struggle offensively even if he was manning the shooting guard position. His offensive game would need to improve to begin with then.
It's worth mentioning that it's unlikely Shumpert requests a trade, though. He's still working his way back from injury and his market value is hardly at its peak. And while New York may be equally frustrated, it has to understand he's not a veteran; he's still learning.
For the record, no one has requested an Iman trade from the Knicks.The report from Chris Sheridan is incorrect.

— Happy Walters (@Happywalters) February 18, 2013
Which means some sort of medium needs to be established. Either this is all conjecture (probably not) or the Knicks and Shumpert need to reach mutual clarification on what his role will be from now on.
Otherwise, Shumpert with remain unhappy and the Knicks dissatisfied. A situation that will only get worse, given how unlikely it is New York finds a suitable package for him in the coming days.
Dan Favale is a firm believer in the three-pointer as well as the notion that defense doesn't always win championships. His musings can be found at Bleacherreport.com in addition to TheHoopDoctors.com. Follow @danfavale on Twitter for his latest posts and all things NBA.