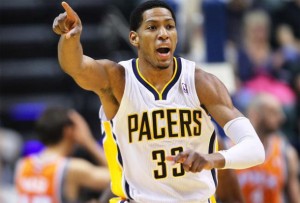 Don't look now, but the Indiana Pacers are just a mere 4.5 games out of first place in the East. They've managed to put together one of their best seasons in recent memory, while flying under the radar and doing so without Danny Granger. Imagine where they'd be with Granger. Looks like we won't have to imagine for long.
The Pacers may get their fifth starter from last season — Danny Granger — back as early as Wednesday against the Charlotte Bobcats.

Granger, out all season with a left knee injury, went through his first full-court practice Sunday.

The Pacers must decide if it's important for Granger to play before the All-Star break next weekend or wait until Feb. 20 against the New York Knicks.
H/T: IndyStar.com