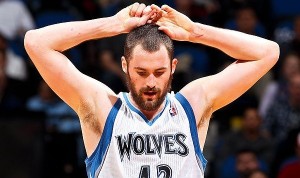 Kevin Love and the Minnesota Timberwolves aren't the most harmonic of pairings, yet this union is anything but irreparable.
Though Love has expressed his dissatisfaction with the franchise in the past, to go as far to say that he wants to be dealt would be a gross exaggeration.
Or so one would think.
According to ESPN.com's Chad Ford, Love still isn't happy with the Timberwolves, to the point where he wants out of Minnesota:
Probably not. He's so good, the Wolves want to make a major splash in the playoffs and they couldn't get equal value in return. However, it's probably in their best interest to trade him now. He wants out and will likely bolt the team when he can opt out of his contract. The longer the Wolves wait, the harder it is for them to get value in return. That's been proven over and over again in the NBA.
Now, I don't doubt for a minute that Love isn't thrilled with the Timberwolves. The way they treated him when he signed an extension was not indicative of dealing with a star. Instead, David Kahn and company attempted to downplay his value to the team.
But do I believe for a minute that Love has already decided to "bolt" from Minnesota?
Absolutely not.
Not only will the power forward eventually be playing alongside a healthy top-tier playmaker in Ricky Rubio, but the Timberwolves are finally in the thick of the playoff race. Is this to say his future with the team is written in stone, that he is going to remain in Minnesota for the rest of his career?
Again, no. More likely than not, however, Love hasn't yet made a decision either way. He'll first want to evaluate where the Timberwolves are when he's eligible to opt out in 2015. Which is why it doesn't make sense to trade him. Doing so would allow Minnesota to capitalize off his current value, yet him leaving isn't a foregone conclusion. It's not even close to any type of conclusion.
So let's not pretend that the Timberwolves need to deal him now, because they don't. And as Ford himself notes, they won't. Whether they believe he is a true superstar or not, he's a huge part of the reason why they are laying claim to any sort of prominence. They wouldn't be on the cusp of a playoff berth if not for his 18.7 points and 13.8 rebounds per game.
Is there room for Love to improve? Of course, but there's room for Minnesota to improve as well. As we've learned over the last year or so, this remains a rocky relationship, one that needs to be worked on.
But it is beyond repair? Is Love and the Timberwolves' relationship so far gone that they only sensible option left is to deal him?
I'm inclined to say no.
Why?
Because that's the truth.
Dan Favale is a firm believer in the three-pointer as well as the notion that defense doesn't always win championships. His musings can be found at Bleacherreport.com in addition to TheHoopDoctors.com. Follow @danfavale on Twitter for his latest posts and all things NBA.