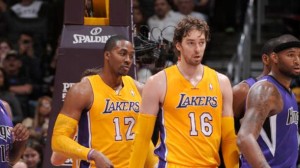 Pau Gasol's acceptance of reality is the key to everything for Dwight Howard and the Los Angles Lakers.
Though everyone and their mother wants Los Angeles to blow it up by admitting defeat and trading either Gasol or Howard, there is still time salvage what's left of this blueprint and this season. But only if Pau is up for it.
Fret though the Lakers might over Howard, they aren't going to trade him. Not only is there not a package out there that will come close to his value, but he remains the face of the Lakers' future. Plus, any unhappiness he has exuded about his role on offense comes down to the fact that there isn't enough room for two bigs in Mike D'Antoni's uptempo offense. His poor free throw shooting and suddenly subpar awareness and touch around the basket hasn't helped his case either.
Enter Gasol.
D'Antoni finally (and mercifully) ended the extended Howard and Gasol experiment when he benched Pau indefinitely. Limiting the minutes that he and Howard spend together allows each player the opportunity to spend ample time as the primary pick-and-roll big and also opens up the floor for the entire team.
Great idea, right?
Not according to Pau.
Per Craig Sager of TNT, Gasol isn't happy about the switch:
"Pau Gasol I talked to before the game," Sager said. "He is not at all happy with the decision. He says I have never been a role player in my life. I don't like it right now. I said, what about the possibility that maybe your time with the Lakers could be coming to an end at the All-Star break or the trade deadline? He said it certainly looks like a possibility to me."
Though the big man's ego is undoubtedly bruised, it's really time for him to suck it up and realize this is for the better of the franchise—and for him.
We can sit here and criticize D'Antoni's offense to no end. Both Howard and Gasol can claim it's not the right for them. Both of them can waste their time whining about what isn't true. Or they could accept reality.
And the reality is D'Antoni's offense works. Seven games under .500 and the Lakers still boast the eighth-ranked offense in the NBA. An offense that stands to only increase in potency with Gasol coming off the bench.
Both Gasol and Howard must understand this move is what's best for them and the team. Howard must see that this is going to open things up for him on offense further and Gasol must comprehend that coming off the bench puts him back in the post (for the most part). So, why not embrace change that is aimed at increasing your effectiveness?
I have no doubts that Howard will eventually warm up to the offense. I still stand by my assertion that most of his problems on offense are self-inflicted. Some are the result of his simultaneous playing time alongside Pau, but that's no longer a problem. His numbers and attitude are only going to improve.
But I'm worried about Pau.
http://www.youtube.com/watch?v=4dQvPswom-g
Like Amar'e Stoudemire and Manu Ginobili, Gasol must not only accept, but willingly embrace his new role with the team. It's not a demotion in the conventional sense, rather it's a necessity for a team desperate to win.
If he can come to terms with spending most of his time with the second-unit, Gasol stands to reverse the narrative currently surrounding the worst season of his career; he stands to build upon his career-low 12.7 points per game on a career-worst 43.2 percent shooting.
He stands to become Pau Gasol again.
And if he can't accept that, or at least give it the opportunity to work, then the hell with him. Let the Lakers blow it up. Let them shake up their roster once more. Just know that it will be Gasol, not Howard that goes.
You see, either way, Howard's role on offense is about to increase. He's at his best when he's the sole big in the rotation, just ask the Orlando Magic. Whether Pau comes off the bench or is traded, Howard is guaranteed to be return to where he is most comfortable; he is certain to regain his form.
Gasol's, though? That's up to him.
He can either be a team player and attempt to revive his suddenly dying career or maintain his current surly demeanor.
The latter of which will have him finishing out the season on a different team.
Dan Favale is a firm believer in the three-pointer as well as the notion that defense doesn't always win championships. His musings can be found at Bleacherreport.com in addition to TheHoopDoctors.com. Follow @danfavale on Twitter for his latest posts and all things NBA.