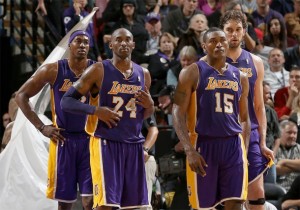 The Los Angeles Lakers are struggling, but blowing this team up shouldn't be an option.
Though it's tempting to look at the age of Los Angeles' core and their subsequent record, and then conclude that this isn't working, making any brash decisions on the fate of this convocation is still premature.
Why?
Because there's still time for the Lakers to make this work; still time for them to get it together.
Which is why it should come as a source of comfort that the Los Angeles organization has no intention of blowing this roster up.
Per Ramona Shelburne of ESPNLosAngeles.com, Lakers vice president still maintains the belief that this faction can win together:
Very little has gone according to plan for the Los Angeles Lakers this season. So little, in fact, that executive vice president Jim Buss said Thursday it would be foolish to "blow it up" until the team has played enough games together to correctly identify why it has so badly underachieved.

"We still like this team a lot," Buss said Thursday in an interview with ESPNLA 710 radio in Los Angeles. "How can you not believe in this team? This team is built to win. It's a very, very solid team. We haven't seen them all together and play together for games. In my mind, we would not consider a temporary fix or blow it up. Why blow up something we have a future with?
Surprised?
You shouldn't be.
Though the Lakers currently sit five games under .500 and are outside the Western Conference's playoff picture, dismantling this aggregation makes little to no sense.
Is it disconcerting that even with Dwight Howard the Lakers rank 22nd in defensive efficiency? Of course, but flaws such as this are fixable. Not to mention neither Howard nor Pau Gasol has been healthy since the season started.
Am I making excuses for Los Angeles?
Absolutely not, because there are none at this point. But to believe this roster is beyond salvaging is ridiculous. Remember, despite defensive shortcomings and a slew of injuries, the Lakers have still laid claim to the sixth-most potent offensive attack in the league.
Why isn't Los Angeles winning then?
Depth.
One could argue that the Lakers are too old until their blue, purple and green in the face, but it wouldn't be true. Both the San Antonio Spurs and New York Knicks are old, yet they remain near the top of their respective conferences. So that's not a viable argument.
Los Angeles' lack of depth, however, is.
At present, the Lakers have five players averaging more than 30 minutes per game and their bench ranks 27th in points scored per game with 26.2. That same bench also ranks 20th in points allowed per game with 34.4.
Starting to see a trend here?
I understand that the Lakers as a whole need to get better defensively. Kobe Bryant and company—with the exception of Howard—are God-awful when it comes to defensive rotations and weak side penetrators. So yeah, that needs to change.
But so does their depth, or rather, lack thereof.
Without a rotation that stretches nine or 10 deep, the Lakers aren't going to actualize their full potential. It forces them to play Bryant, Gasol, Nash and Howard far too long, thus prohibiting the battered of the bunch from ever reaching full strength.
Thus, instead of blowing up this roster, Los Angeles needs to deepen it.
How much so?
To the point where they're not just relying on four or five players to carry the load of a 10 man rotation.
Dan Favale is a firm believer in the three-pointer as well as the notion that defense doesn't always win championships. His musings can be found at Bleacherreport.com in addition to TheHoopDoctors.com. Follow @danfavale on Twitter for his latest posts and all things NBA.