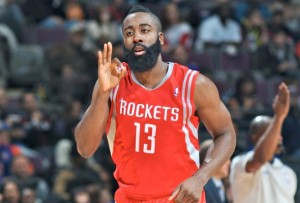 James Harden must be the most conflicted player in the NBA. His former team, the Oklahoma City Thunder are a league-leading 24-6, while his current team, the Houston Rockets are 17-14 and headed in a different direction. While he watches his former teammates try to chase down a championship; Harden's Rockets are trying to chase down a playoff spot. Despite no longer having a legit shot at a title, Harden is enjoying his best individual season. This far into the season, Harden has to be the leading candidate for the Most Improved Player Award.
A terrific team player and spark plug off the bench in Oklahoma, Harden was instrumental in their celebrated run to the NBA Finals last season. In a move motivated by money and contract negotiations, the Thunder swapped Harden for sharpshooter Kevin Martin. Since the Thunder feared they would not have enough to offer Harden—given the hefty contracts awarded to Serge Ibaka, Kevin Durant, and Russell Westbrook—Oklahoma made a calculated risk trading Harden to Houston. So far, the trade has helped everybody.
The Thunder has not let the move affect them, as they lead the league in points per game with 105.93, but the Houston Rockets are surprisingly second in that category with 105.84 ppg.
Martin has been productive and reliable for the Thunder, averaging 15.6 ppg on 45.4% from three and 92.6% from the free throw line.
Harden, on the other hand, has blossomed in his role as a starter for the Houston Rockets. After they lost Louis Scola and Martin, the Rockets have remained competitive by adding Jeremy Lin, Omer Asik, Harden, and Head Coach Kevin McHale. Currently, the Rockets are 6th in the West.
Sometimes a change in scenario is all it takes for a guy to go from Sixth Man of the Year to the league's most improved player.
Harden has taken over the spotlight and the backcourt that was supposed to be Jeremy Lin's, who is still producing 10.9 ppg and 2.3 spg. Lin was Houston's biggest acquisition until Harden, but Harden's sensational play has made him one of the stories of the season.
Last season, Harden averaged 14.1 ppg, 1.1 spg, and 2.7 apg for the Oklahoma City Thunder.
Harden with Thunder:
This season, Harden is averaging 26.1 ppg, 1.83 spg, 4.4 rpg, and 5.2 apg. Harden's scoring assault has him among the leaders in the league, right there alongside Kobe Bryant and LeBron James. Despite his brilliance, Harden's shooting and turnover rate are areas he will look to improve.
Harden Highlights (2012-2013):
Harden's improvement from 14.1 ppg to 26.1 ppg—among other areas—may easily be the most impressive individual performance of the season.
Harden is putting up the best numbers of his career, and he should be a shoe-in for Most Improved Player, but does James Harden also deserve some consideration as an MVP candidate?
Rob S. De France is a College and University Instructor of English Composition living in Los Angeles. He has a B.A. in English and an M.A. in Rhetoric and Composition. De France has played, coached, and officiated competitive high school basketball in California for many years. Recently, De France, his wife, and another colleague started an internationally read magazine at Shwibly.com.