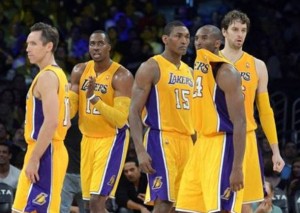 Their record doesn't reflect, but the Los Angeles Lakers are still an NBA powerhouse to be feared.
After Kobe Bryant and Dwight Howard led the Lakers to a loss at the hands of the Howard-less Orlando Magic Sunday night, Los Angeles dropped below .500 for the fourth time this season. Obviously, for a franchise with a payroll exceeding $100 million, such a reality is unacceptable and, quite frankly, surprising.
When the Lakers brought in Howard and Steve Nash to pair along with Bryant and Pau Gasol, visions of a dynasty danced through the collective heads of the organization and their fans. Former head coach Mike Brown quickly put such lofty aspiration to bed, though, as the team lost four of their first five games to begin the season. Hence, the "former" label.
Championship dreams lived on, however, when Mike D'Antoni was brought in to implement an offense that has already proven to be a perfect fit for Kobe and Nash. Sure, D'Antoni wasn't known to stress defense, but he never had a big man like Howard to anchor his defensive attack. Toss in his presence along with the stout defense of Metta World Peace, and you had a formidable entity that was destined for title contention.
Or was it?
Since D'Antoni took over, Los Angeles is 6-5. While that's an improvement over Brown's 1-4, the Lakers aren't spending piles of money to be a mediocre team, nor will they come close to contending for a title while doing so.
Which means it's time to panic.
Except that it's not.
http://www.youtube.com/watch?v=OpAxSqhzXkY
Understandably, Los Angeles and its fanbase wanted instantaneous results. With so many big names and so much talent, winning should have come natural to this ball club; no grace period should have been needed.
But as I've stressed before, such assumptions can be ignorant and shortsighted. And as I've pointed out before, the Miami Heat's fantastic convocation began their first season 9-8 before going on a tear and ultimately reaching the NBA Finals. Currently, the Lakers sit at 8-9. Underwhelming? Yes, but not far off from the pace the Heat set two years.
Let's not neglect to mention that the Lakers are undergoing a system overhaul in the process, something Miami didn't have to do. After expending so much energy on attempting to run the Princeton offense, Los Angeles has shifted gears with a new coach, and it's going to take time for the team to master his blueprint, especially without Nash.
As a fan—myself included—we hate to hear that these things take time, but it's a fact. This team, like Miami, was built overnight, yet this team, also like Miami, is not going to succeed overnight.
I won't sit here and point to Nash's return as the cure-all—though it's going to help quite a bit—but I will readily admit that this is no time to panic; the Lakers are still a team to be feared. Like really feared.
http://www.youtube.com/watch?v=jkcg63gDF24
Sure, we could take their loss to the Magic as a sign that they've hitting rock bottom, as an indication of their ultimate failure, or we could look at the game against the Denver Nuggets and see a team that dismantled a supposed contender, despite lackluster performances from Kobe and Howard. Or we could look at this team and see an Antawn Jamison and World Peace that are beginning to come into their own. Or we could see a team that is in the early stages of an experiment that has been marked by injuries.
But we don't, not all of us anyway.
We see a team in turmoil, one who is destined to fail. One that will never contend for the title it was supposed to.
For their sake, hopefully other NBA teams hopefully aren't buying into that current narrative plaguing the Lakers; they're hopefully not expecting them to fail. Otherwise, they're liable to get burned.
Because it's too early to draw such a conclusion, especially when a similarly constructed powerhouse in the Heat went from Laker-like to league champions in less than two years.
Especially when this team has already showed glimpse of the team it can become.
Especially when the reality is that this team, that this star-laden, albeit struggling, Lakers team is still a formidable entity who should be feared to no end.
Dan Favale is a firm believer in the three-pointer as well as the notion that defense doesn't always win championships. His musings can be found at Bleacherreport.com in addition to TheHoopDoctors.com. Follow @danfavale on Twitter for his latest posts and all things NBA.