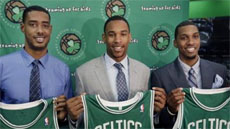 The Boston Celtics have managed to avoid starting from scratch this season, and now, it's up to them to ensure they make the most of it.
While the additions of Jason Terry and Courtney Lee, and the re-signings of Brandon Bass, Kevin Garnett and Jeff Green were huge, Boston's draft class may prove to be the difference between title contention and a championship facade.
Despite a very talented roster, and a backcourt that is marked by depth, the Celtics' frontcourt, specifically their interior lineup, is noticeably thin. Bass and Garnett will undoubtedly hold down the low post fort admirably, but players like Jason Collins, Jamar Smith, Sean Williams and Chris Wilcox aren't talented enough to inject any sort of interior life into the second-unit.
Enter Fab Melo and Jared Sullinger.
Both Melo and Sullinger are relatively raw, and both pose substantial projects, but this year, Doc Rivers needs to throw his "I hardly play rookies" attitude out the window and let each athlete see adequate playing time. Why exactly? Because together, Melo and Sullinger can provide the low post depth Boston so clearly lacks at this point.
http://www.youtube.com/watch?v=TgbuB-p2-DA
Sullinger, while undersized for a power forward, is a stellar rebounder with a versatile offensive arsenal. He's not known to play above the rim, but with an increased focus on conditioning and proper strengthening of his back, such a deficiency can be easily resolved. And given ample playing time, his immense upside that once had him pegged as a lottery pick should have no trouble revealing itself.
Melo is in the same boat, though he does pose more of a project. He's a strong defensive player and provides an even stronger rebounding presence, which is absolutely essential for the Celtics, who were the worst rebounding team in the league last season. His offensive skill-set is in need of some polishing, but playing alongside playmakers like Terry, Rajon Rondo and eventually Avery Bradley, he'll have access to the type of easy buckets he hardly ever received at Syracuse.
Plus, at seven-feet tall, Melo is massive, and monstrous big men are becoming a rare commodity in the NBA.
No, Melo and Sullinger won't give Boston one of the deepest paint rotations in the league, but they'll drastically improve the team's chances against organization's with overwhelmingly talented bigs.
Because the fact is, as prolific as Garnett is, and as capable as Bass has proven to be, the Celtics are in need of some serious assistance and added depth in the low post. Luckily for them, though, the solution can be found in-house.
All Boston needs to do is exude a little bit of patience and a willingness to take a risk and let it unfold.
Dan Favale is a firm believer in the three-pointer as well as the notion that defense doesn't always win championships. His musings can be found at Bleacherreport.com in addition to TheHoopDoctors.com. Follow @danfavale on Twitter for his latest posts and all things NBA.