September 17, 2012 – The Hoop Doctors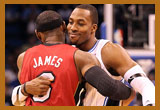 You could argue that Dwight Howard handled his pending free agency worse than LeBron did, because while, LeBron's "The Decision" could've been handled better, it was one misstep. Whereas it seems as if Dwight made several missteps.
Dwight apparently was a keen observer of LeBron's situation and tried to avoid being hated the same way. Not sure if he was successful.
'And it was a tug of war between my feelings and the fans and everybody else and their feelings and what happened to LeBron. And I saw him — everybody hated him for leaving Cleveland and what he did,' Howard said of LeBron James' free-agent move from the Cleveland Cavaliers to the Miami Heat in 2010. 'I never wanted anybody to hate me, you know. I wanted everybody to love me, you know, like me, for sticking around and doing what they wanted me to do. And making everybody else happy. And that was a valuable lesson for me, you know. I can't make everybody happy.'
Source: espn