September 7, 2012 – The Hoop Doctors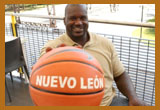 Even though Shaq retired from the NBA, he apparently still has passion to lace them up. He's in talks with a team in Mexico to play a few games. How funny would that be? You know Shaq would make it into something comedic.
Shaquille O'Neal is in talks to play a few games in the Mexican league, Sergio Ganem, president of the Fuerza Regia team, said Wednesday. …. No deal is in place, but Ganem spoke with O'Neal by phone in an attempt to convince him to return to action, and the team expects a response from O'Neal next week.
Source: espndeportes