September 12, 2012 – Jonathan Lee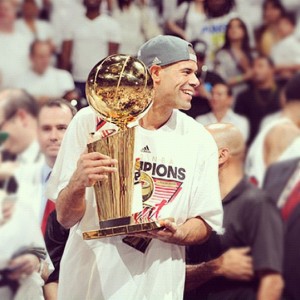 Recently ESPN.com and the TrueHoop network began their offseason project to rank every NBA player. Every player will be ranked from 500 to 1 by the 104 experts on the panel and counted down on ESPN.com. The players will also be rated on a scale from 0-to-10, with 10 being the best ranking. At this point, the panel has revealed its rankings from 101-500.
Miami Heat forward, Shane Battier, made the ranking list, securing a ranking of 107 and a rating of 5.30. Despite only averaging 4.8 points per game during the 2011-12 regular season, Battier's ranking is higher than countless other players who averaged more points per game. While that my baffle many, it has long been known within the league that Battier's true value cannot be quantified in statistics.
Battier has long been acknowledged for his cerebral approach to the game of basketball. His teammate, LeBron James called Battier "the number one smartest basketball player" that he has been around. He further stated that "his basketball IQ is off the charts in terms of understanding situation and being able to analyze all the different situations on the court." In fact, Miami Heat coach, Erick Spoelstra felt that Battier was one of the major reasons that the Heat were able to win the 2012 NBA title. Everyone remembers Battier averaging 17.0 points per game in the first two games of the season, but his affect on the series was bigger than his point per game average.
Battier allowed the Heat to further adopt their "positionless" approach. Spoelstra stated that Battier "was the key to really unlock all our versatility and to put our best players out there and really be positionless and make other teams have to adjust to us." In a 2009 article, The No-Stats All-Star, Houston Rockets' general manager, Daryl Morey said that his nickname for Battier (who was playing for the Rockets at the time) was "Lego" because "when's he on the court, all the pieces start to fit together."
Battier's effect was on full display on the NBA Finals stage. Beyond the combined 34 points and nine three-pointers in the first two games of the Finals series, Battier being on the floor created many matchup difficulties for the Thunder to match up with. His ability to stretch the floor and guard multiple positions allowed the Heat to employ a number of lineups throughout the series. Moving forward, the Heat will continue to employ their "positionless" approach and Battier will again be a key contributor in that movement.