August 13, 2012 – The Hoop Doctors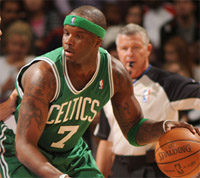 The Phoenix Suns are in a rebuilding stage as they have turned their roster over this summer. The veteran presence of Jermaine O'Neal should help out some of the younger players on the team.
In the shadow cast by Superman's arrival in Los Angeles, the timing of Jermaine O'Neal's choice to commit to the Suns on Friday was unfortunate as an unrelated move.

Given the caliber of remaining NBA free-agent centers, O'Neal's commitment to sign a one-year, $1.35 million contract with Phoenix could be fortuitous if — and it's a huge if — O'Neal can be healthier than he has been for the later half of his 16-year career.

The Suns had only a backup center role and a one-year, veteran's minimum contract to offer with a franchise that is in transition. The Suns came away with a six-time All-Star who is still only 33 years old because he entered the NBA out of high school.
Source: ArizonaRepublic