June 15, 2012 – Allen Moll

Earlier this season, Kobe Bryant sold his game-worn clear face mask on Ebay for a whopping $67,100, with all proceeds going to he and his wife Vanessa's charitable foundation to fight youth homelessness.
Even though his LA Lakers were unceremonially ousted from the 2012 NBA Playoffs a bit earlier than the "Black Mamba" would have liked, Kobe continues to be in the charitable mood as a high bidder of more than $23K, again o Ebay, won the right to play Kobe in game of H-O-R-S-E for charity.
The game will be played on July 2nd at Kobe's very own Basketball Academy, held annually on the campus of UC Santa Barbara from July 1-5 for children aged 8 through 18 years of age.
The most recent Kobe themed auction went live for a week, ending this past Monday, with 7 bidders all vying for the chance to take on Kobe one-on-one. The bids opened at $500 but quickly spiraled to the winning bid of $23, 200.
In a bit of comic relief, many bidders weren't taking the auction too seriously as one bidder who at one point was in the lead, graciously bowed out, giving an explanation as "can no longer pay."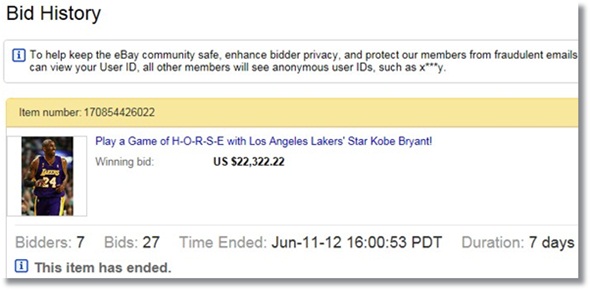 Allen Moll has been a lifelong NBA and NCAA College Basketball fan who watches and studies games religiously, and coaches youth basketball in his native Lehigh Valley region of Pennsylvania. Allen has also provided content to Bleacherreport.com, Upperdeckblog.com, Cleveland.com, CSN Philly.com, Buckets Magazine, in addition to being a tenured NBA and NCAA columnist for TheHoopDoctors.com.