May 18, 2012 – Allen Moll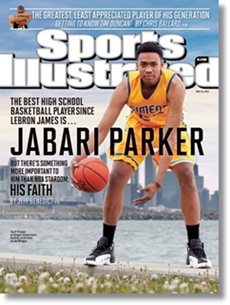 If you haven't yet heard of fantastic incoming high school senior Jabari Parker, you will very shortly. As the consensus #1 rated hoops prospect in the 2013 Class, Parker has been receiving an unbelievable amount of attention on the recruiting trail by all of the Division I heavyweights like Kentucky, Duke, and UNC.
The 6'9 and 225 lb forward has already been compared to Carmelo Anthony, Grant Hill, and even Kobe, is the youngest player ever to be named USA Basketball's male athlete of the year in 2011(succeeding Kevin Durant – 2010), is only the 4th junior to be awarded Gatorade National HS POY this past April, in addition to helping lead Chicago based hoops powerhouse Simeon HS to their 3rd straight Class 4A Illinois State Title. All amazing accomplishments considering the fact he just turned all of 17 years old.
His father Sonny Parker was once a stand-out at Texas A&M and was a 1st Round NBA Draft pick, meaning elite level hoops is in his blood. Parker also is a devout Muslim and may consider going on a mission once he turns 19, even if it means putting the NBA on hold. It's a surprising proposition considering that Parker is the odds on early selection as the #1 overall pick in early 2014 NBA Mock Drafts.
Now he has yet another accolade to be proud of – as the coverboy for the May 21st issue of Sports Illustrated. Upon reading a sneak peak, Parker's faith and background is almost as compelling as his immense basketball skills. Skills so amazing that he is touted as the "Best HS basketball player since Lebon James."
Although he has only average athleticism, most scouts agree that the sky is the limit for Parker, since he can do virtually anything he wants on the court from scoring 40 points one night to blocking 12 shots on another. Possessing a 6'11 wingspan, Parker could be the next in line of dominant power forwards but chooses to instead use his elite ball-handling skills to take his man off the dribble or use his NBA ready pure shooting stroke to drain endless threes.
One NBA executive even told SI that if Jabari were eligible for the draft, he would be a lottery pick in June. He has a 3.7 GPA and judging by his junior season mixtape, Jabari obviously has one-and-done potential, but will he chose his faith over immediate NBA superstardom when the time comes?
Check out Jabari Parker Last Month On The AAU Circuit:
Allen Moll has been a lifelong NBA and NCAA College Basketball fan who watches and studies games religiously, and coaches youth basketball in his native Lehigh Valley region of Pennsylvania. Allen has also provided content to Bleacherreport.com, Upperdeckblog.com, Cleveland.com, CSN Philly.com, Buckets Magazine, in addition to being a tenured NBA and NCAA columnist for TheHoopDoctors.com.