May 15, 2012 – The Hoop Doctors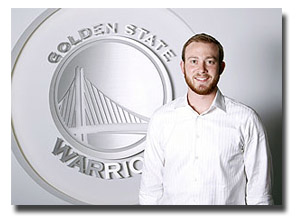 Sounds a bit odd to hear that a 25 year old 'man' has been hired into an executive position of an NBA franchise, doesn't it? The Golden State Warriors have promoted Kirk Lacob to the position of Assistant General Manager, the team announced today. But I guess it's not all that strange when said 'man' is the son of team owner Joe Lacob…
In this role, Lacob will report directly to General Manager Bob Myers, while assisting with all aspects of the team's day-to-day basketball operations. He joins Travis Schlenk, who was promoted to Assistant General Manager/Director of Player Personnel prior to last season, on Myers' front office staff.

Lacob has spent the last two seasons as Golden State's Director of Basketball Operations, supporting on a variety of front office roles, including player personnel evaluation, draft preparation and scouting, as well as helping to further the use of statistics and technologies in basketball operations. He has also served as the team's player development representative with the league office, coordinating and implementing programs to aid in the overall development of players both on and off the court.

In addition to his role with the Warriors, Lacob is the General Manager of the Dakota Wizards, the Warriors-owned NBA Development League affiliate. He was named GM of the Wizards in August of 2011. As GM of the Wizards, Lacob is instrumental in all aspects of the team's operations, including roster formation as well as basketball and business operations. During his first season as General Manager, the Wizards qualified for the D-League Playoffs after finishing tied for first place in the Eastern Conference with a 29-21 regular season record.
Although Lacob is only 25 years old, it's not like he's completely wet behind the ears given his duties with the Warriors D-League franchise. Oh yeah, and he graduated with a degree from Stanford, so he's likely not your average 25 year old playing video games and smoking weed with his boys all day. Hey, I wonder if that's what analysts meant by "needing to get younger"?
[Source Warriors.com]