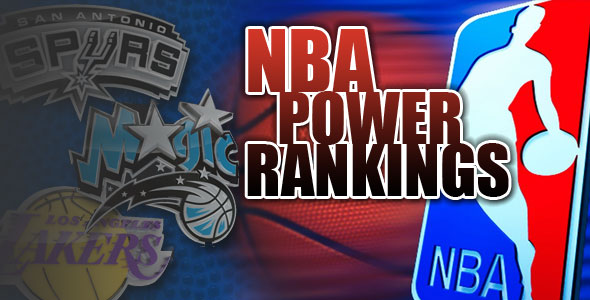 **For a week by week list of all our NBA Power Rankings this season, please visit this page.
NBA Power Rankings
| | |
| --- | --- |
| 1 | |

Chicago Bulls (16-3)

Derrick Rose is back in the lineup, and even without Luol Deng the Bulls are just as dangerous thanks to increased production from Rip Hamilton.  The Bulls may drop a few more games over the next couple weeks because of Deng's absence, particularly in the 9-game road trip beginning in Miami Jan. 29.  But as long as Rose is back in the lineup, they are still one of the best teams in the East.

| | |
| --- | --- |
| 2 | |

Oklahoma City Thunder (14-3)

After deeming the Thunder the best team in basketball, they proceed to give the Washington Wizards their second win of the season.  But OKC has shown heightened effort on the defensive end since that loss, and they are still one of the best teams in the West.

| | |
| --- | --- |
| 3 | |

Miami Heat (12-5)

Even when the Heat are slow to get started and LeBron seems off, Chris Bosh has been able to rise to the occasion with Dwyane Wade sidelined by injury.  The Mario Chalmers/Norris Cole point guard rotation seems to be working, even when they share the floor for a smaller lineup.  The Heat may seem disinterested at times, relying on the "turn it on when they need to" mentality, but it's worked well enough to keep them at the top of the conference.

| | |
| --- | --- |
| 4 | |

Philadelphia 76ers (12-5)

Head coach Doug Collins clearly believes in a process, and you can see Philadelphia getting more comfortable on the floor together every game.  Friday night's win against the Hawks was a huge step forward for the 76ers, proving their record was not just a result of a soft schedule.  They play team defense as well as anyone in the East, and are 5th in the league in assists (22.2 apg).  Philly is for real.

| | |
| --- | --- |
| 5 | |

Denver Nuggets (12-5)

Some may dismiss the Nuggets' high assist numbers (24.5, 1st in NBA) due to their fast-pace style, but they also rank 2nd in field goal percentage (47.9%) and fall in the Top 5 for points per possession.  The dual-point guard attack of Ty Lawson and Andre Miller has been working out perfectly for Denver, currently holding the second-best record in the Western Conference.

| | |
| --- | --- |
| 6 | |

Atlanta Hawks (13-5)

After disappearing in a loss to Philadelphia, Joe Johnson has turned in two impressive performances in wins to put Atlanta back on track.  If the Hawks can maintain a high level of play, they will only improve when Kirk Hinrich and Al Horford do return to the lineup.  The experience the Hawks' bench players are getting now will only benefit them in the playoffs.

| | |
| --- | --- |
| 7 | |

Los Angeles Clippers (9-5)

With Chris Paul returning to the lineup, the Clippers are closer to the best version of themselves.  That may not be the best in the Western Conference, but right now it's good enough for best in the inconsistent Pacific Division.  Now if Mo Williams can continue to be as effective (25.7 ppg in last three games) with less of a workload, they will have a much better chance to hold on to that stop.

| | |
| --- | --- |
| 8 | |

Utah Jazz (10-5)

Utah is 9-2 in the month of January, only falling to the Lakers and Mavericks – each by three points.  Ty Corbin is gathering early Coach of the Year consideration for bringing Utah right back into mix so quickly after Jerry Sloan's sudden retirement.  The Jazz have a unique blend of veterans and potential rising stars that are slowly learning how to play, and win, together.

| | |
| --- | --- |
| 9 | |

Orlando Magic (12-5)

After starting the week with one of the worst offensive performances in franchise history, the Magic will get another shot at Boston on Thursday.  Orlando's experience has helped them close out tough games, but the team has been inconsistent across 48 minutes.  Definitely a good team, just waiting to see if they become great.

| | |
| --- | --- |
| 10 | |

Portland Trail Blazers (11-7)

With wins against Sacramento and Phoenix, the Trail Blazers will have a chance to sweep their first back-to-back-to-back on Wednesday at Golden State.  Head coach Nate McMillan has been watching everyone's minutes, and the Blazers' depth will be tested against a high-energy Warriors squad.  Watching minutes will be crucial to keep this team healthy, because without vets like Gerald Wallace and Marcus Camby the ceiling for Portland is much lower.

| | |
| --- | --- |
| 11 | |

San Antonio Spurs (11-7)

Gotta love when Tim Duncan gets in the zone and goes for 25+ and hits a game-winner like he did in a 104-102 victory at New Orleans.  The running hook prevented a third-straight loss for the Spurs, who have looked shaky over the last week.  Popovich is also watching his players' minutes in the crammed schedule, so some inconsistencies are to be expected in the middle of the season.

| | |
| --- | --- |
| 12 | |

Los Angeles Lakers (10-8)

The Lakers look lost, and head coach Mike Brown knows it.  Luckily, when you have the best player in the game and two of the best bigs in the West you can stay afloat while you figure it out.  The current three game slide can be turned around this weekend, and they'll want to with a six-game road trip in early February.

| | |
| --- | --- |
| 13 | |

Dallas Mavericks (11-7)

Shawn Marion is doing a good job of filling in as a primary offensive threat, a role he has needed to fill at different times this season.  His play has been a big part the Mavs turnaround, now with eight wins in their last ten games.  When healthy and engaged, the Mavericks can be Western Conference contenders.  But the chemistry needs to improve, and they need all their different weapons available.

| | |
| --- | --- |
| 14 | |

Indiana Pacers (11-5)

The Pacers have been to get by mostly with their rock solid defense in their 11-5 start, but the inability to run a fluid offense and shoot at a high clip could hurt their standing in the Eastern Conference over the next couple weeks.  Nine of the Pacers next 12 opponents are above .500,  and nine also are above the league average in points per game.  This is a critical stretch for Frank Vogel's young team to determine their contender status in the East.

| | |
| --- | --- |
| 15 | |

Houston Rockets (10-7)

You had to imagine that it might happen, Kevin McHale would get Daryl Morey's roster and turn them into a dangerous Western Conference threat.  The current seven game winning streak has included wins over Portland and San Antonio, and the Rockets have made the Southwest Division very interesting all of the sudden.

| | |
| --- | --- |
| 16 | |

Boston Celtics (7-9)

Rajon Rondo's injury has opened the door for point guard Avery Bradley to inject some energy into the Celtics' lineup.  Bradley's defense and hustle fueled Pierce and Garnett in a gritty beatdown of Orlando on Monday, and could help pull Boston out of their funk.

| | |
| --- | --- |
| 17 | |

Memphis Grizzlies (10-7)

You figured the seven-game streak would end at some point, and it is not a huge shock – or concern – that the Grizzlies finally lost to Portland in the Rose Garden.  However, it has shown Memphis' ability to maintain a high level of play without Zach Randolph.  If Mareese Speights can continue to be serviceable down low the Grizz have moved into that competitive middle of the Western Conference.

| | |
| --- | --- |
| 18 | |

New York Knicks (7-10)

The Knicks have quickly gone from the NBA's darling to three losses from combustion.  The team is slumping and the grand experiment is currently battling many of the predicted side effects, most notably team chemistry.  Maybe Baron Davis' return to practice – and possibly the court eventually – will jump start the locker room and help turn things around before it is too late.

| | |
| --- | --- |
| 19 | |

Minnesota Timberwolves (7-10)

Losses to Utah and Houston have brought the Timberwolves back to earth, but don't ignore how well and close they played both games.  Depth is an issue right now.  Michael Beasley, Wesley Johnson, and J.J. Berea are all nursing injuries, leaving head coach Rick Adelman with only an 8 or 9 man rotation for most games.

| | |
| --- | --- |
| 20 | |

Milwaukee Bucks (6-10)

Bookending the weekend with wins over the Knicks and Heat on the road have put a sense of confidence in the Bucks.  Brandon Jennings has been playing at a high level for the last several games, and the team as a whole looks much better when more players are sharing minutes.

| | |
| --- | --- |
| 21 | |

Phoenix Suns (6-11)

With nine straight double-doubles, it is time to acknowledge Marcin Gortat as one of the premiere big men in the league.  However, there has been very little consistency outside of Gortat and Steve Nash.  Jared Dudley, Channing Frye, Hakim Warrick and Shannon Brown seem to be taking turns as complimentary contributors, but head coach Alvin Gentry is still struggling with the rotation.

| | |
| --- | --- |
| 22 | |

Cleveland Cavaliers (6-10)

Four losses in one week has been rough on the young Cavs, but no one promised a smooth ride for this group in 2012.  Tuesday's loss to Miami showed the Cavs' struggles to close out a game down the stretch.  That weakness is expected to come with inexperience, but it will keep them down in the Eastern Conference pecking order.

| | |
| --- | --- |
| 23 | |

Sacramento Kings (6-12)

Chuck Hayes' return should add some experience and depth to an ailing Kings' squad, losers in five of their last seven games.  Marcus Thornton is expected to miss some more time with his re-injured thigh, which puts even more pressure on Tyreke Evans and DeMarcus Cousins to carry the load offensively.

| | |
| --- | --- |
| 24 | |

Golden State Warriors (5-11)

"Mama there goes that second half lead," I imagine Mark Jackson telling the Warriors as they give away an 18-point fourth quarter lead to Memphis on Wednesday night.  The Warriors are a young team, struggling to close out opponents in the fourth quarter.  Not surprising, but still not the best start for the first-year head coach.

| | |
| --- | --- |
| 25 | |

New Jersey Nets (5-13)

More on-court examples of the Nets rising and falling along with the performance of Deron Williams.  Unfortunately it has been paired with off-court reports that D-Will is eyeing the door of New Jersey doesn't bring in another superstar in the near future.

| | |
| --- | --- |
| 25 | |

Toronto Raptors (5-13)

Andrea Bargnani has been the team's primary offensive threat for most of the season, so it does not surprise anyone that it required a 36 point outburst to end the Raptors' eight-game losing streak.  Bargnani's ability to stretch a defense when he's hitting from deep allows James Johnson, Amir Johnson, and the rest of the front line to get in and crash the offensive boards.  All that said, Toronto is still a five-win team.

| | |
| --- | --- |
| 27 | |

Detroit Pistons (4-14)

We are nearing a full month of play in the lockout-shortened NBA season, and Detroit still has not scored 100 points.  They play at the slowest pace in the league (87.6 possessions per 48 minutes), but do not have the efficiency or defensive prowess to capitalize in a low-scoring game.

| | |
| --- | --- |
| 28 | |

New Orleans Hornets (3-14)

The Hornets have lost 14 of 15, including eight straight.  The last three losses have been by a combined six points  against teams over .500.  The Hornets inability to close out these wins is painful to watch, as this superstar-less squad is becoming this season's version of the 2010-2011 Cavs.

| | |
| --- | --- |
| 29 | |

Charlotte Bobcats (3-15)

The same issues that burn the Bobcats in four annual meetings with Orlando returned with the New York Knicks' sizable front line in town on Tuesday.  Charlotte was out-rebounded 53-33 in the loss, with no answer for Tyson Chandler's 20 point, 17 rebound performance.  The Bobcats have no true center, and until they do will be weak against teams with dominating post men.

| | |
| --- | --- |
| 30 | |

Washington Wizards (2-15)

With Flip Saunders now fired, there is no one left for the fans to blame other than the players.  If the Wizards want to stop hearing boos, they need to turn around their on-court execution and start winning a few games for the home crowd.
Chip Patterson writes for CBSSports.com's Eye on College Football and contributes at TheHoopDoctors.com.